Our inaugural walk raised over $25,000 last year, thanks to the support of all of you!  These funds will be used to support lymphoma research being done by Dr. Byram Bridle at the Ontario Veterinary College.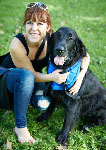 Our first walk in Guelph was inspired by the loss of a best friend and shining light, "Charger." This year, the momentum is building and we are drawing energy from so many sources of inspiration – especially the people (like you) that come together to share your stories, your time and your hearts in support of ending canine cancer.  Smiling Blue Skies has helped so many people and pets, and we know that the Guelph community will come together again, to support their message of hope and renewal.
Since its inception in the spring of 2001, The Smiling Blue Skies Cancer Fund has raised over $1.4 million dollars. 100% of these funds have been used to support OVC Pet Trust's quest to find more and better ways to deal with and understand the complex and devastating disease of cancer. Not only do our pets benefit from this contribution, but the knowledge gained, is shared with human research, for the good of us all.
Let's reach beyond the bluest skies, to the brightest stars, on behalf of the OVC Pet Trust - Smiling Blue Skies Cancer Fund. With your gift to OVC Pet Trust, you will be helping to advance innovative discoveries that are aimed to improve the prevention, diagnosis and treatment of diseases in companion animals – helping our pets live longer, healthier lives.  Additionally, OVC Pet Trust funded projects may also lead to solutions to human health issues.  More than 120 studies into naturally occurring diseases affecting companion animals have been carried out with Pet Trust funds.
To date, Pet Trust funds have been used for many special projects, including the construction and equipping of the Mona Campbell Center for Animal Cancer, investigations into common health problems, the development of new diagnostics and therapeutic techniques, studies involving the human-animal bond and animal behaviour and the upgrading of the Companion  Animal Hospital's  Intensive Care Unit.
Cancer is the most frequent cause of death in dogs. This is a truly frightening thought. It is a burden that we all share. In loving our dogs, whether pure breeds or mixed breeds, we want the very best for them, in health, and in sickness.
Thanks to you, we are changing the face of animal and human cancers.  Smiling Blue Skies is not about one dog, one cat, or one person; it is about all of us. We depend on our pets as much as they depend on us. Even a small effort makes a BIG difference. Please help us in any way you can.
Submitted by Anonymous on Feb 23, 2015
Location:
York Road Park - 85 York Road, Guelph, ON
Date:
Saturday, May 30, 2015 -

09:30

to

12:30