Healing Hearts - A Day of Learning for Veterinary Professionals
EVENT UPDATE (March 19, 2020): 
OVC Pet Trust, the Ontario Veterinary College and the University of Guelph continue to closely monitor the development of the COVID-19 pandemic. In an effort to support our community's collective health and well-being, we have made the difficult decision to cancel OVC Pet Trust's Healing Hearts conference, scheduled for May 2, 2020. Thank you for your interest in this event. Talking about end-of-life considerations for pets is an important part of veterinary medicine. We plan to offer this event in the future, so please check the event website for updates.  
Registration Refunds
For those already registered, refunds will be processed directly back to the credit card used for payment. We appreciate your patience as we process these refunds.
Thank you for your understanding.
We hope you will join us at the 2nd Annual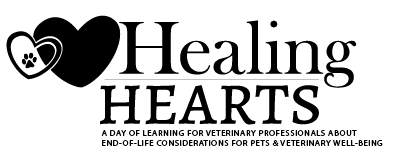 hosted by

Registration is now open. Enrol before April 3, 2020 to take advantage of our early bird pricing.
Event Details
Who: This conference is appropriate for all members of the veterinary team including doctors, veterinary technicians and administration staff. 
Date: Saturday, May 2, 2020
Time: Approximately 8:30 a.m. – 4:00 p.m. (exact timing to be confirmed)
Location: Ontario Veterinary College, Guelph, ON
Cost: $29.00 before April 3 (Regular price: $49.00)
Includes:
A full day of experts presenting on end of life considerations for pets
FREE resources for your hospital to help clients through the loss of their pet
A continental breakfast, lunch and coffee breaks
 
More details, including exact location, confirmed timing and conference program, will be sent by email prior to the conference.
Questions? Contact ovcpet@uoguelph.ca or call 519-824-4120 x54695.
Conference Program
Check back often for conference program updates!
A full day of discussion and learning tackling issues such as:
Talking to your clients about end of life decisions
Speaking to children about death and dying
Euthanasia communication strategies
Featuring:
Dr. Shane Batman, Associate Professor at OVC, DVM, DVSc, Dipl. ACVECC
Dr. Debbie Stoewen, DVM, MSW, RSW, PhD
Norah Shaunghnessy, Grief Support Coordinator in the Paediatric Advanced Care Team (PACT) at Toronto's Hospital for Sick Children (SickKids)
Dr. Faith Banks, DVM, CHPV, CCRT, CPLP
Sarah Bernardi, Veterinary Social Worker
Submitted by amarty01 on Dec 11, 2019
Location:
Ontario Veterinary College (OVC), University of Guelph
Date:
Saturday, May 2, 2020 - 00:00