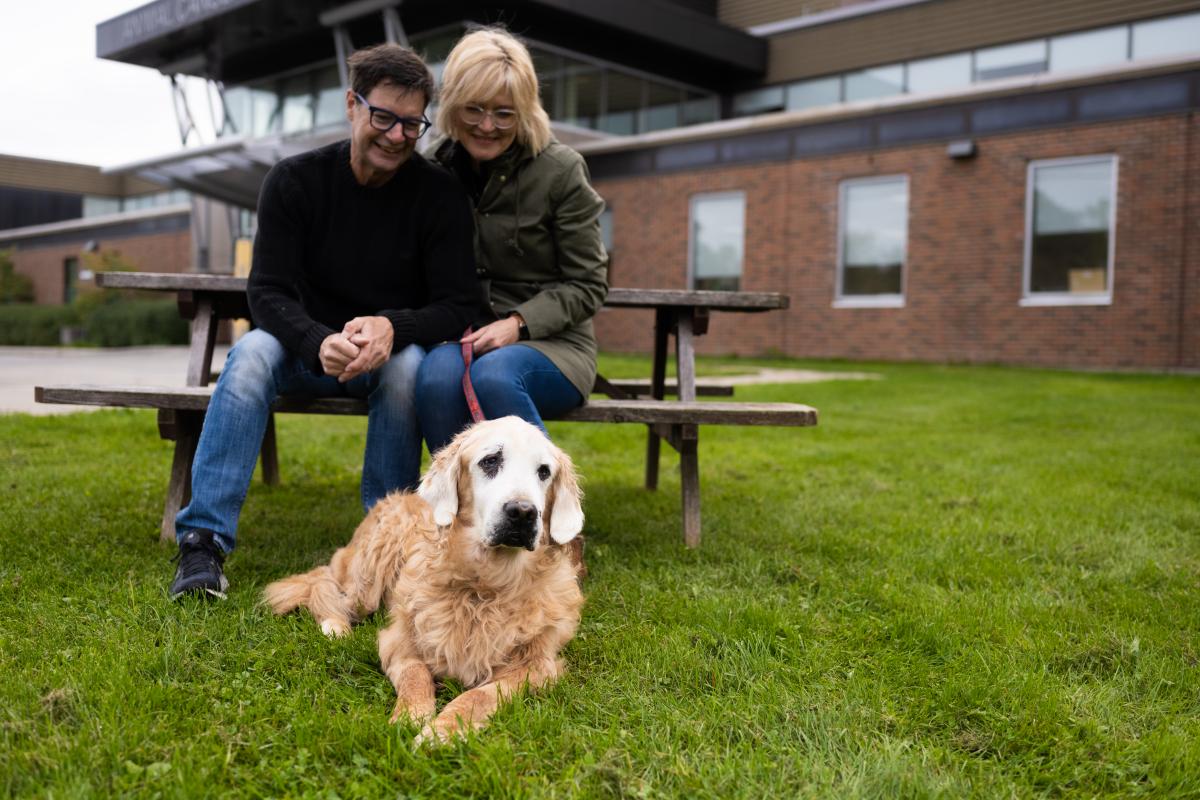 The love that Dean Cox and Kimberly Dubblestein have for their gentle, warm Golden Retriever is contagious and apparent. Fenway, named in honour of Dean's favourite baseball team and the home of the Boston Red Sox, is one of the most important parts of his family – no ifs, ands or "bunts". 
When the 13-year-old Golden Retriever from Waterloo suddenly became ill and collapsed this past spring, his family rushed him to their local veterinarian and then to another emergency hospital that very night. Fenway rallied over the next few weeks, but the collapsing episodes continued.
In photo (above): Dean and Kimberly are pictured outside the Mona Campbell Centre for Animal Cancer with their dog, Fenway.
"One night, things were so bad, we thought it was the end," Dean remembers. "We spent the night on the kitchen floor, cuddling him and telling him how much we loved him."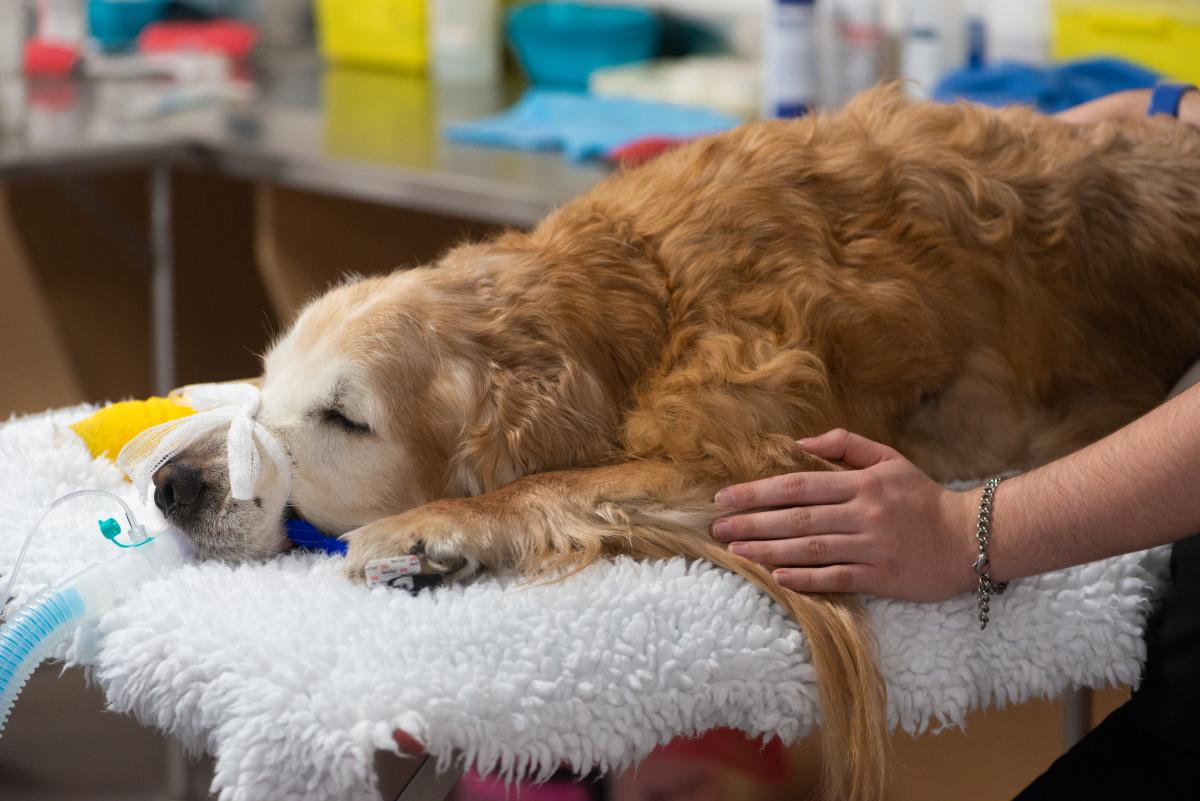 When Fenway survived that night, his family says they knew it wasn't his time; "when it's your dog, you just know," Dean shares. Fenway was referred to the Health Sciences Centre (HSC) at the Ontario Veterinary College (OVC) – and that's when things turned around, Dean says.
Diagnostic tests revealed Fenway had a buildup of extra fluid in the space around the heart called pericardial effusion. Another scan showed masses on the dog's spleen, a lump on his adrenal gland and a mass on his liver. After being evaluated by OVC's Oncology Service and discussing options for his care with the veterinary team, Dean and Kimberly decided that they would proceed with surgery followed by chemotherapy for their dog.
In photos (above and below): Fenway is prepared for surgery in the Kim and Stu Lang Anesthesia and Pain Management Unit at the OVC Health Sciences Centre.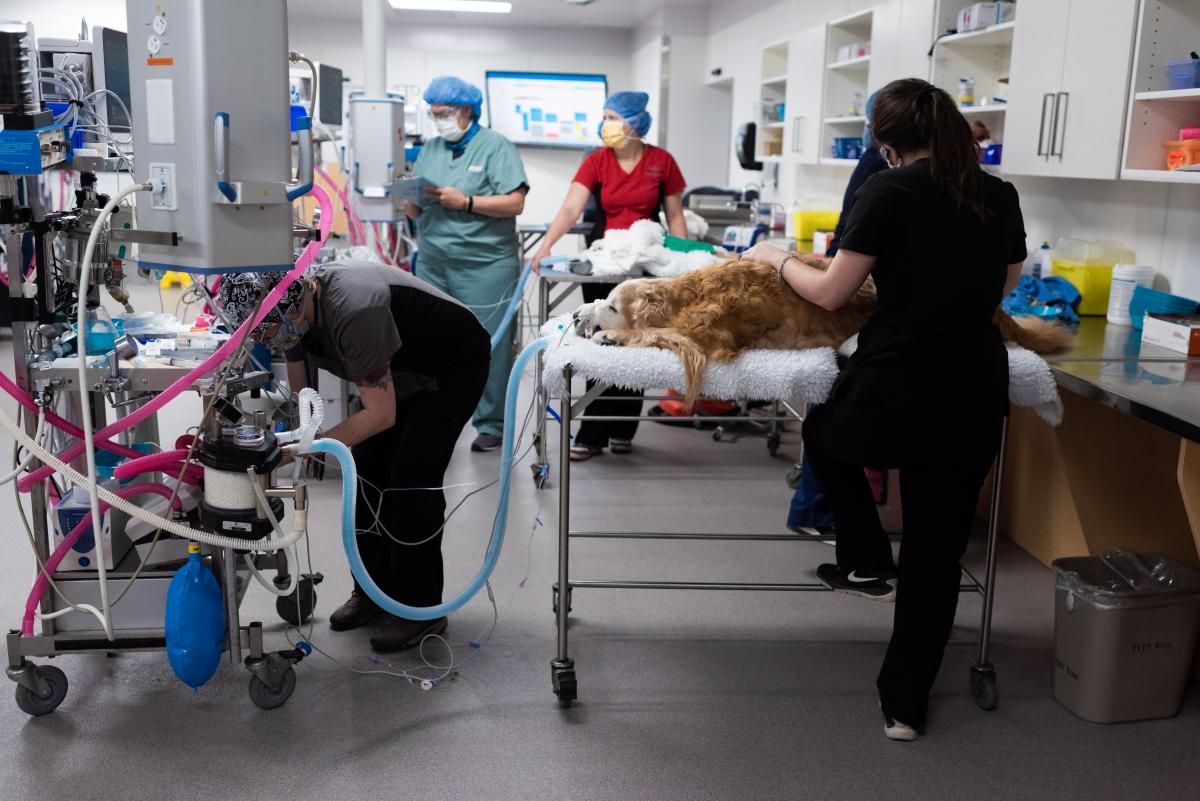 Fenway was admitted to the hospital in June 2021 for a laparoscopic-assisted splenectomy (the surgical removal of the spleen) and liver biopsies in the new Lindy Barrow Minimally Invasive Procedures suite at the OVC HSC. The team, led by small animal surgeon Dr. Ameet Singh, performed a video-assisted, minimally invasive surgery to evaluate the mass on Fenway's heart along with a pericardectomy, which involved the surgical removal of the sac around the heart. Fenway did well in surgery and recovered smoothly from anesthesia. Results of the biopsies taken during surgery confirmed Fenway's diagnosis: hemangiosarcoma, a type of canine cancer that targets blood vessels.
 
This fall, Dean and Kimberly shared their story with thousands of University of Guelph supporters through OVC Pet Trust's annual fundraising campaign appeal.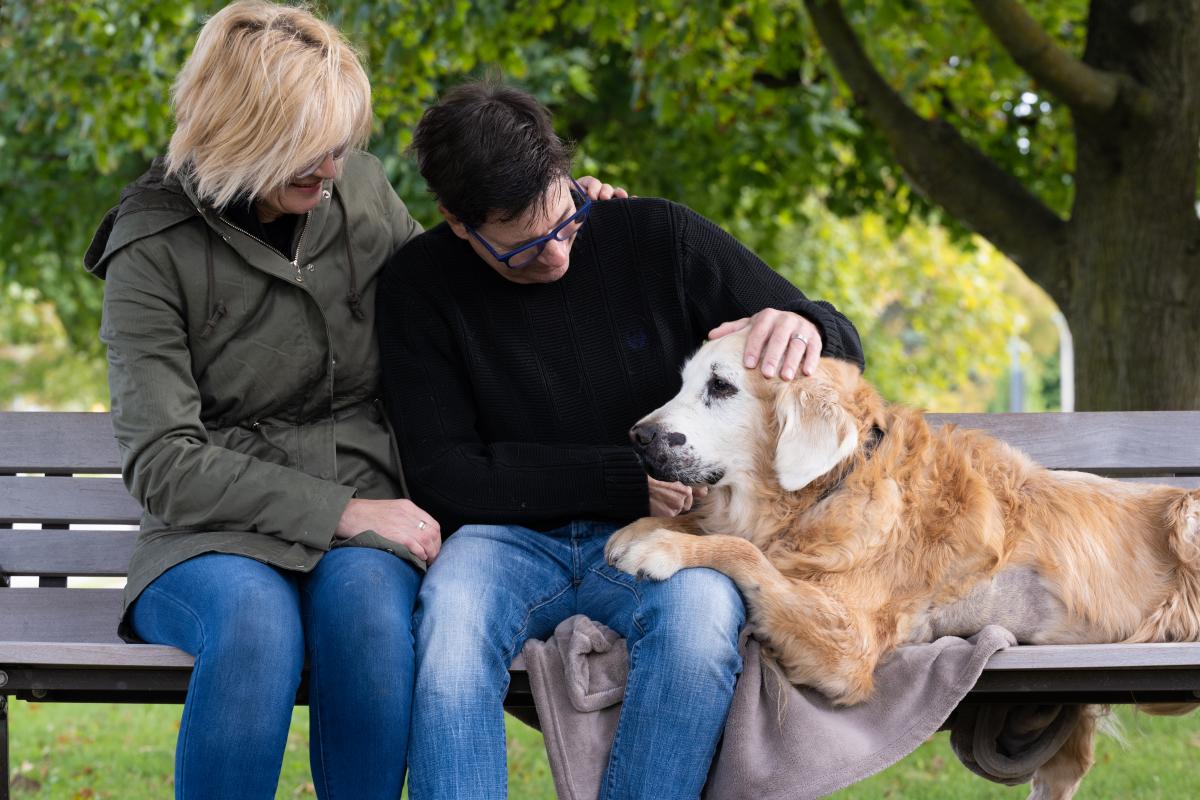 In their heartfelt letter to OVC Pet Trust supporters, Dean and Kimberly expressed gratitude for the hope they've experienced throughout one of the most challenging and emotional times in their lives.
Fenway is battling a devastatingly serious disease. But, we know he is receiving the best care and maintaining the greatest quality of life through the expertise of his care team at the OVC – a group of people who have showed both us and Fenway tremendous empathy and compassion. The advanced treatment options available to our family gave us hope, offering us new choices to explore for our boy.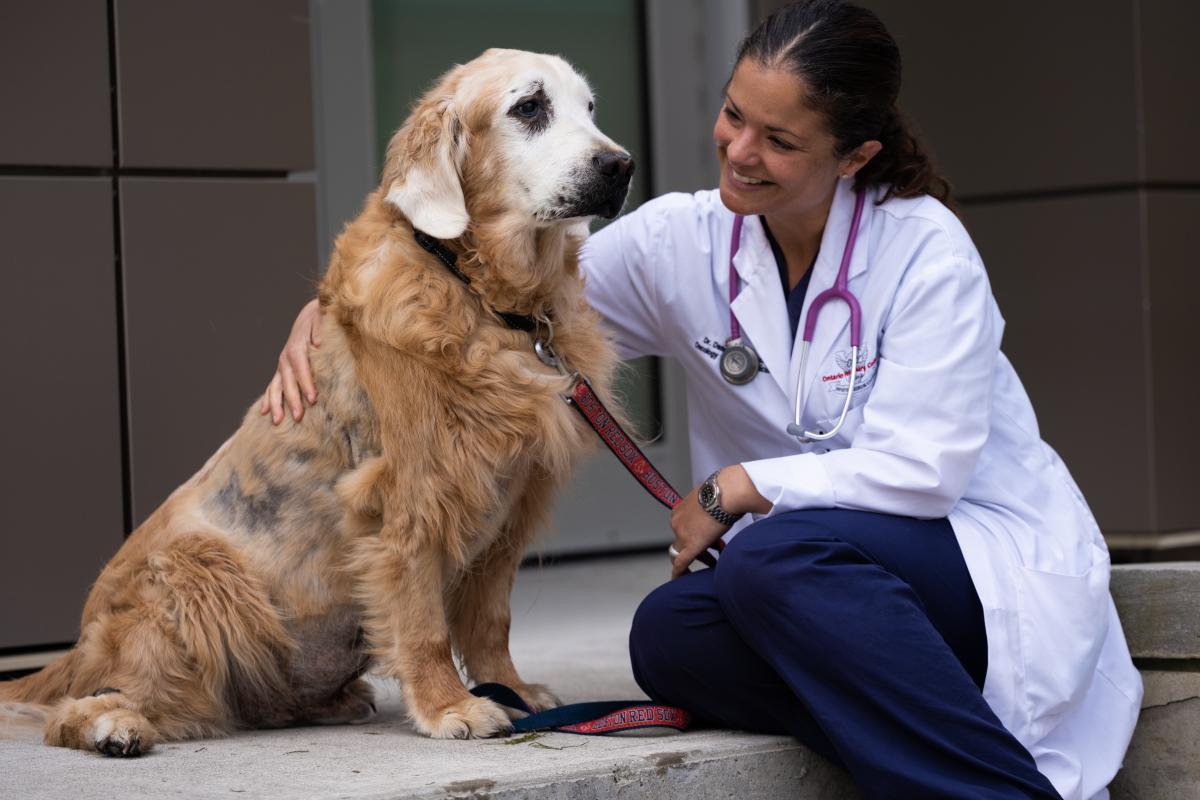 We will never forget the tension and uneasiness we felt during Fenway's surgery. Would Fenway die on the operating room table?
 
We waited for OVC to call and when they did, to our great relief, the first thing the surgeon said was: 'He made it. We got the tumour.' A few days, and many text and phone call and photo updates later, we picked Fenway up and he was like a new dog. His tail was wagging and our 13-year-old boy had the energy of a puppy.
 
In photo (above): Fenway is reunited with OVC veterinary internist and medical oncologist Dr. Danielle Richardson on a visit to OVC this fall.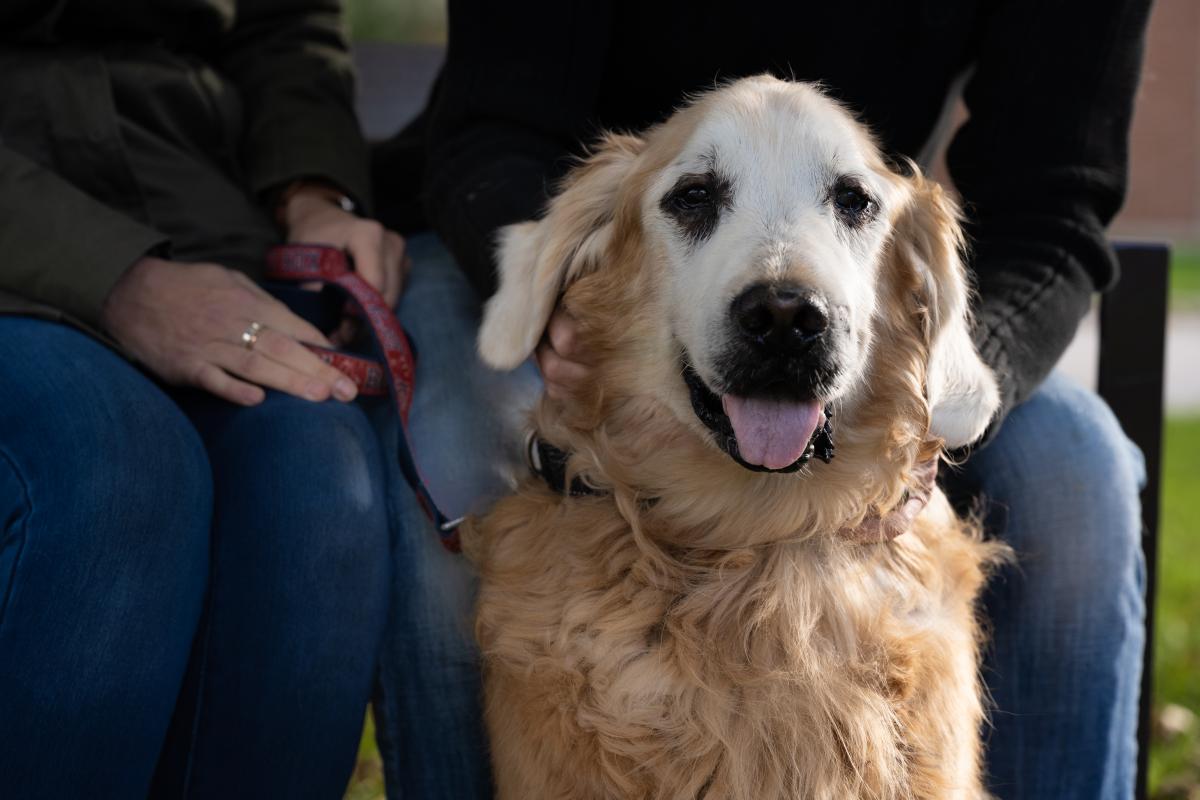 We know we may only have a short amount of time left with our boy. This September we finished his chemotherapy treatments at OVC. Fenway's quality of life is what's most important to us – something OVC has helped us navigate as we fight alongside our dog to give him the best possible life. It's the least we can do for everything our beloved Golden boy has given our family.
 
Together, we can feel proud of the innovative discoveries, education and healthcare advanced by OVC Pet Trust. Collectively, we are making a big impact in animal healthcare and giving hope, one family at a time.
 
Thank you for giving Fenway the chance for a successful surgery. Thank you for giving us more time with our beautiful boy. Thank you for giving our family hope. – Dean and Kimberly.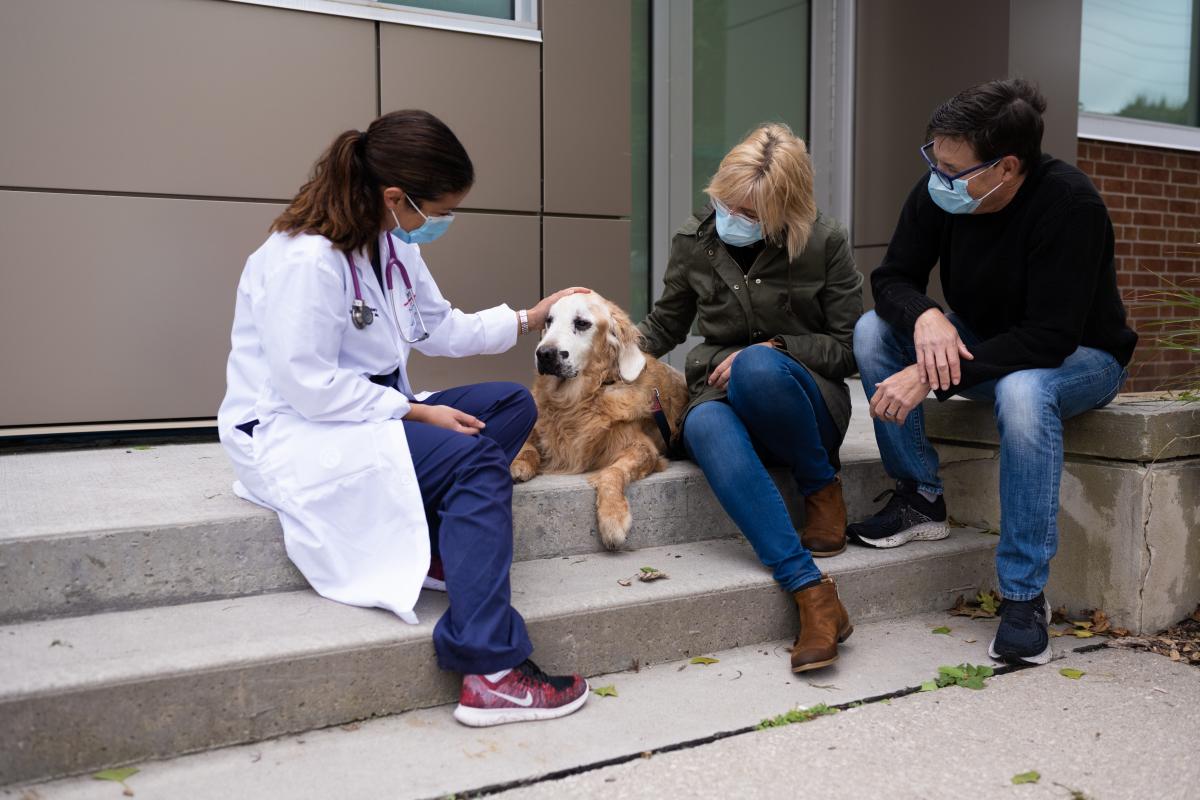 Donors can double the impact of their gift today. Thanks to a generous donor, all gifts made in support of OVC Critical Care and Specialty Services by December 31, 2021 will be matched – dollar for dollar.