How OVC became the Canadian leader in intensive care services for companion animals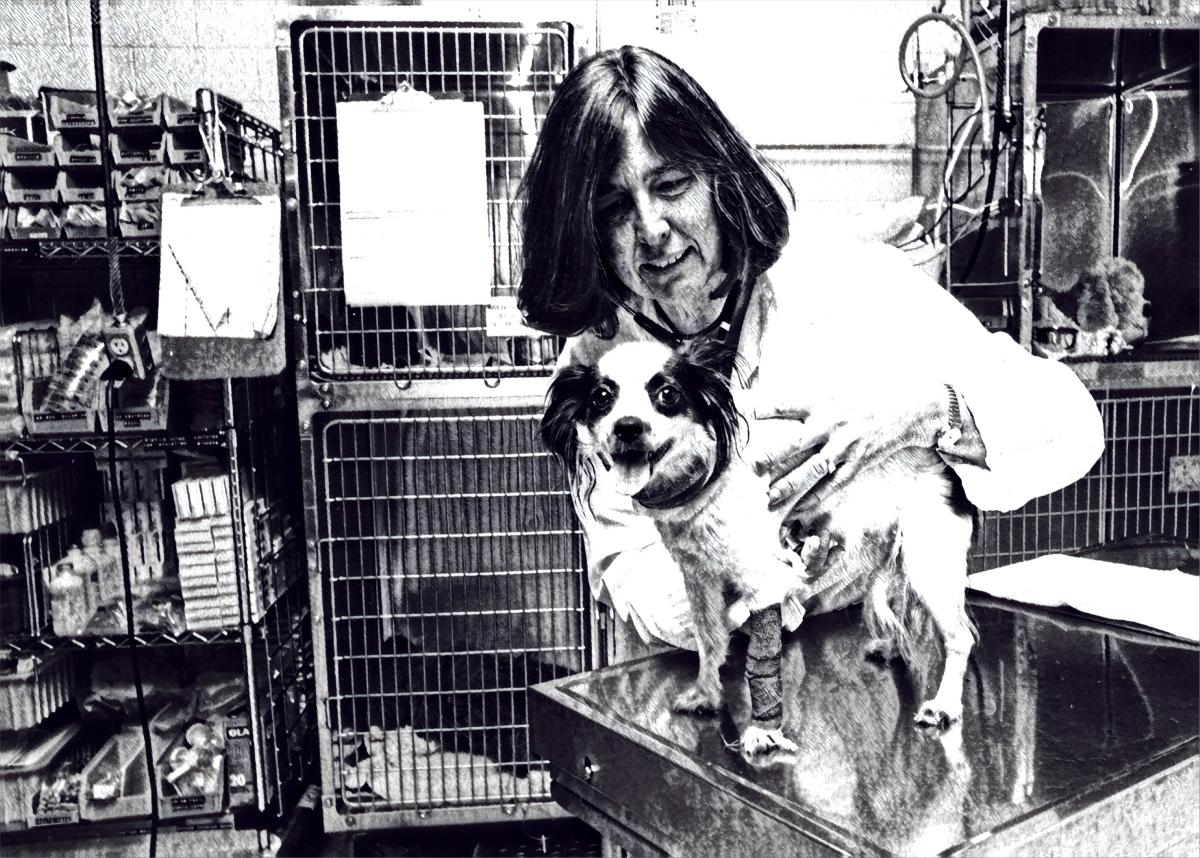 Nobody wants to be in the hospital, and that includes our pets. But it's a comfort for other family members to know a loved one is where they need to be, and that they're receiving the best care possible. That's an assurance the staff and medical teams at the Ontario Veterinary College (OVC) provide to clients and patients in their care. 
Today, an estimated 50 per cent of OVC patients spend some time in OVC's Intensive Care Unit (ICU), which houses inbound emergency cases, critically ill patients and those in need of round-the-clock supervision or quiet healing time. What many people don't realize is that the concept of an ICU for companion animals is a relatively new idea. OVC's ICU was the first unit of its kind in Canada and one of only a handful across North America.
In photo: Dr. Karol Mathews with a dog patient in OVC's ICU. 
5 MILLION PEOPLE AND COUNTING
For Dr. Wayne McDonell, the need for an ICU emerged out of a growing number of complex cases that veterinarians in neighbouring communities were referring to OVC in the mid 1980s. McDonell was managing OVC's Small Animal Hospital at the time, and he says as the capabilities and offerings of primary care veterinarians advanced, only the most challenging referrals were finding their way back to OVC. 
McDonell recalls cases that required consultation from multiple specialities, such as an older dog undergoing back surgery, or animals needing treatment for a condition that might be further complicated by heart failure or kidney failure. 
"Even back then OVC had the largest number of specialties and the biggest faculty, and our expertise in solving complex cases was well-established," McDonell says. "OVC has 5 million people residing around it, and there are many practitioners who send their patients for advanced care here."
It was time to centralize the patients that needed a higher level of care in a single ward. But first, they needed the vision.
WHAT WOULD AN ANIMAL ICU LOOK LIKE?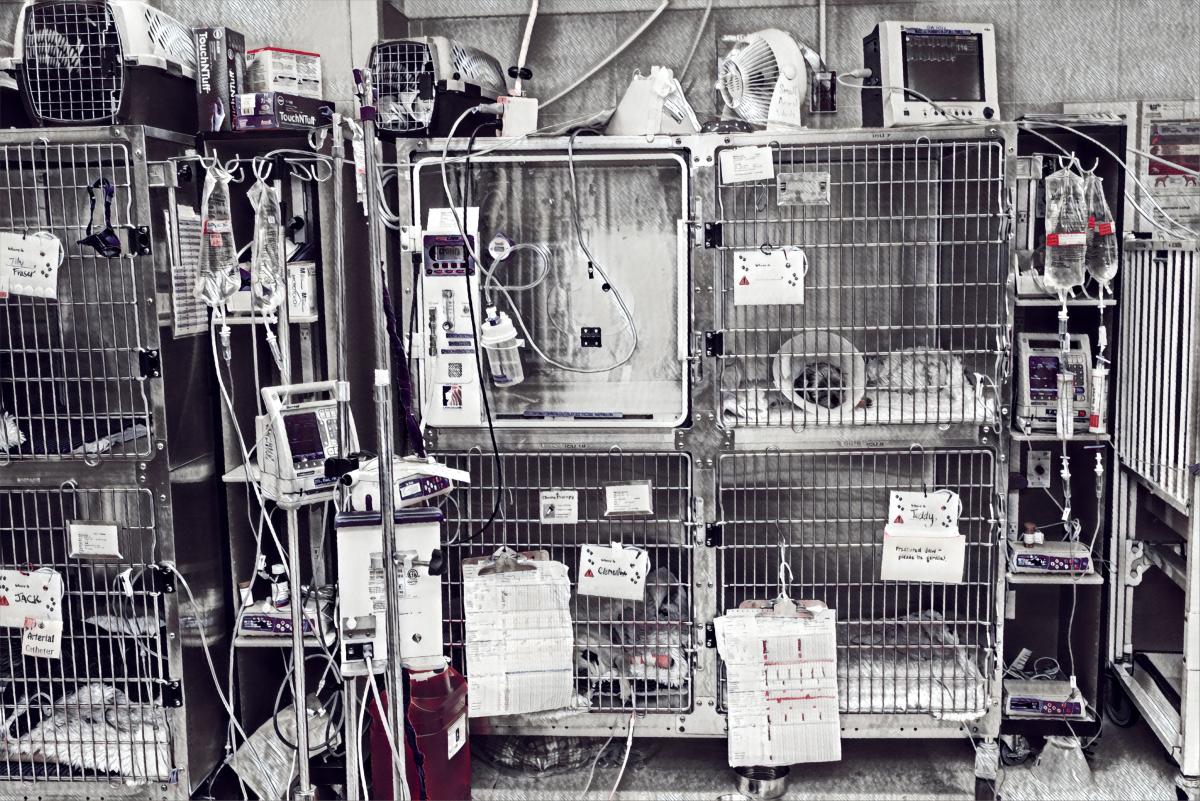 The idea of intensive care facilities for animals was gaining some traction for the world's leading veterinary schools, but it seemed there were different ideas about what they might look like. McDonell had the opportunity to tour several facilities, and there was inconsistency in what an ICU could look like. Some were little more than a sign on a door, others were lacking in staff. "I swore that if we were going to set one up in Guelph, we would either develop a fully functioning unit with a dedicated space or we would not do it all," he says. 
He worked with colleagues to acquire essential equipment. He advocated to hire 24-hour care coverage. 
"It was clear that you can't run an intensive care facility and have everyone leave at five o'clock," he says. "We needed 24-hour staffing, and faculty that could be on-call overnight. There were so many concepts that were new to every-one at the time."
Soon McDonell had established a rotation of students within the Doctor of Veterinary Medicine (DVM) program to help manage the ICU, and he needed a staff member to supervise them.
That duty fell to Dr. Karol Mathews, a veterinary surgeon who had recently completed her post-doctoral work on kidney transplants. Mathews was a logical choice for the role due to the nature of her recent work; her patients required round-the-clock care. The job started as a temporary position in 1988.
MODELED ON HUMAN MEDICINE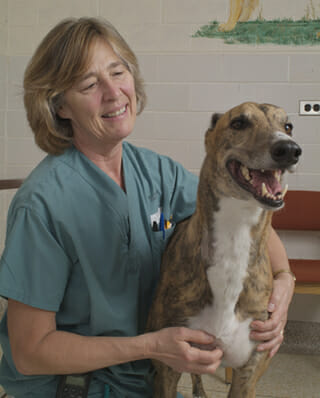 Mathews managed the ICU and its rotation, but any attempts to improve her knowledge of emergency veterinary medicine or improve OVC's ICU were met with one giant hurdle: the field was new, and there was no one to teach her. "There was nowhere in Canada to train, so I picked how I would train myself," Mathews says. "I was immersed in what I was doing, and I recognized what I needed to learn more about."
Mathews set her sights on human medicine for specialty training.  She applied for, and was granted, an observation period at The Hospital for Sick Children (SickKids) in Toronto, where she was able to learn techniques, processes and protocols that could be applied to companion animals back home. For more practical knowledge in veterinary emergency and critical care, Mathews spent two weeks at a specialty clinic in the United States. 
After these 'learning sessions', a serendipitous event occurred. While advising on care for a rabbit included in a surgical trial at nearby Hamilton General Hospital, she met the hospital's intensivist (human term for criticalist), Dr. Clive Davis, a pet owner, who became a mentor advising her of learning opportunities. Dr. Davis included Mathews in the critical care classes with his residents, patient rounds and was available by phone 24/7 for troubleshooting and assisting her with managing the complex ICU patients. "Dr. Davis' mentorship was the path to my success in board certification," says Mathews.
A FACULTY OF ONE
By 1993, Mathews became the first board-certified emergency and critical care medicine (E&CCM) specialist in the veterinary profession in Canada. With those credentials, she developed a graduate residency program at OVC to share the knowledge and experience she had gained to increase the number of E&CCM specialists, and ultimately manage critically ill pets across Canada. During this period, visiting veterinarians from around the world spent time in OVC's ICU to expand their knowledge for practice in their own country.
But, while Mathews had focused on teaching others, she remained a faculty of one. There was no published 'point-of-care problem and management' resource for OVC DVM students, emergency interns or technicians working in the ICU, other than Mathews' personal typed notes. 
"I received many 2 a.m. non-emergent phone calls from interns and residents from other services who were working rotations in the emergency room and ICU, and there were a lot of basics to cover," says Mathews. "With each call, I was answering many of the same questions about managing the patient's blood pressure, fluid requirements, pain management or the acid-base and electrolyte status, so I prepared notes on how to approach and manage these commonly-experienced problems. With these notes available, they were able to treat the patient appropriately, and then phone me if they needed further help."

Today, Mathews' notes form the basis of the quintessential textbook she authored, The Veterinary Emergency + Critical Care Manual, which is now in its third edition and used by veterinarians around the world. What's more, the eight students that graduated from her residency have gone on to build key veterinary emergency and critical care programs across Canada, making significant contributions to improving the lives of companion animals and the people who love them.
Understanding veterinary critical care
What happens in the ICU?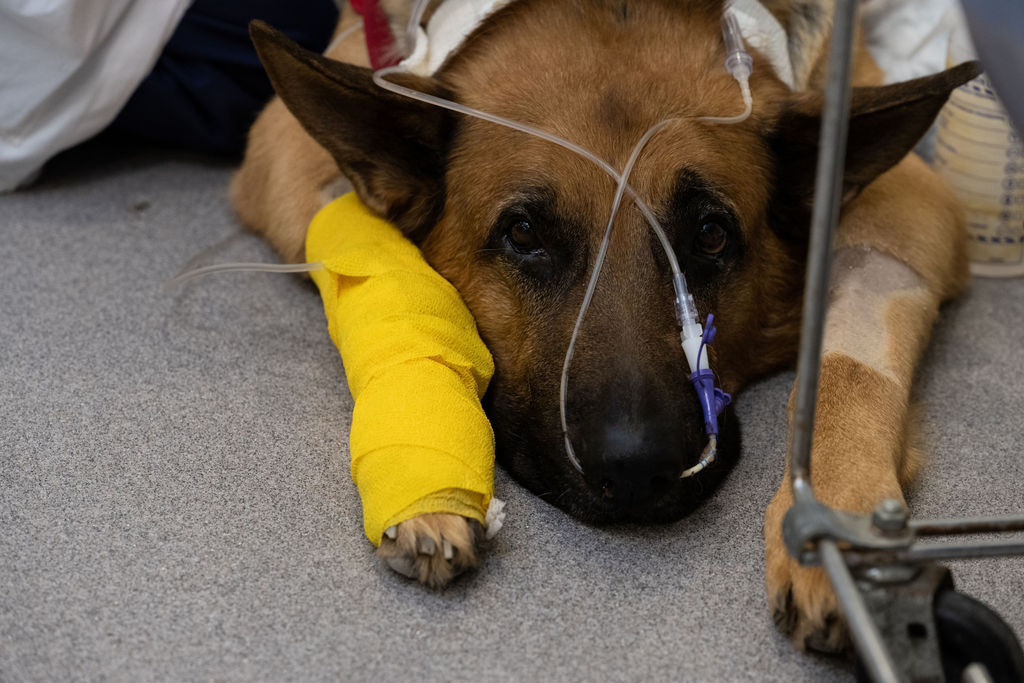 Many pet owners with loved ones in the ICU may wonder — what do veterinary critical care specialists do?  
The specialty of veterinary emergency and critical care medicine (E&CCM) focuses on the immediate management of a severely ill or injured animal and encompasses all organ systems and associated functions. 
In photo: OVC ICU dog patient Diesel. 
Some of the core therapies the ICU conducts include: mechanical positive pressure ventilation/respiratory therapy, transfusion medicine, pain management, CPR, cardiac disorders, sepsis and antimicrobial use, trauma management, managing kidney function and dialysis, acute plant and chemical toxicities and many other emergent problems.  
Laboratory point-of-care testing and diagnostic imaging, such as ultrasound, are frequently required for evaluation of the emergent and critically ill patient. The veterinary criticalist has the expertise to prioritize attention to medical and surgical issues requiring immediate intervention.  
"We work with colleagues in specialty areas such as surgery, internal medicine, cardiology, neurology, oncology and ophthalmology to address the problem the patient was referred for," says Mathews.  Based on the primary problem the patient has, they may remain under the care of the criticalist or referred to a colleague of another specialty to manage a specific surgical or medical problem in their area of focus.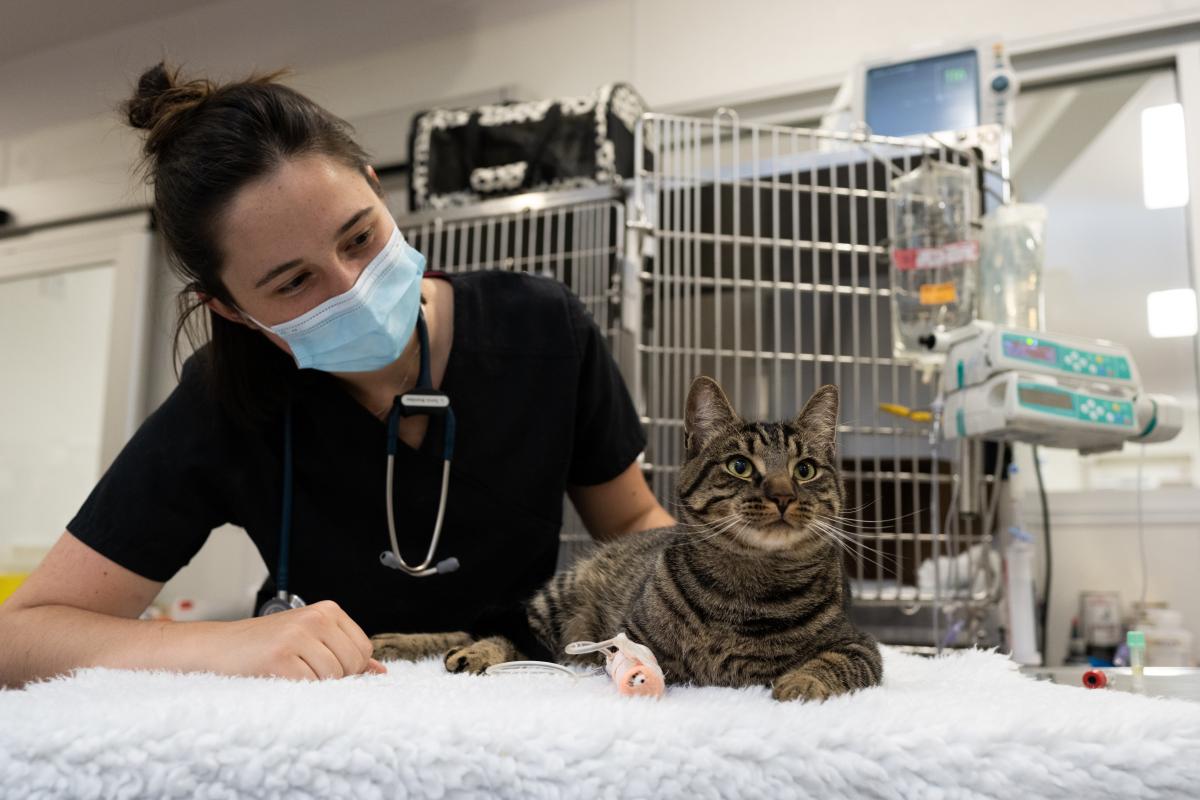 While being managed for this primary problem, the patients remain in the ICU where the criticalist and the ICU technicians care for them.  Together they measure and assess the patient's physiological and other parameters required, including vital signs, acid–base, electrolyte, blood status, cardiovascular, respiratory, kidney, neurological, gastrointestinal and nutritional status, and to monitor the general progress of the primary problem the patient has. 
In photo: OVC ICU cat patient Maeson. 
In addition, the ICU manages the basic needs such as IV fluids, pain management and nutrition, and ensures comfort and administration of medications.  Because the ICU team is available 24/7, it enables other specialties to narrow in on their areas of focus.
"Working in a veterinary hospital is akin to working in a pediatric hospital, which requires an atmosphere full of care and love.  Animals are similar to children.  They need the level of affection they would receive at home, as they are sensitive to fear," says Mathews. "When pets are afraid it can affect physiologic parameters, such as increasing heart rate, affect their nutritional status if they won't eat and affect their diagnosis as sometimes it is not clear if these signs are coming from the disease itself or from the fear of being away from their home."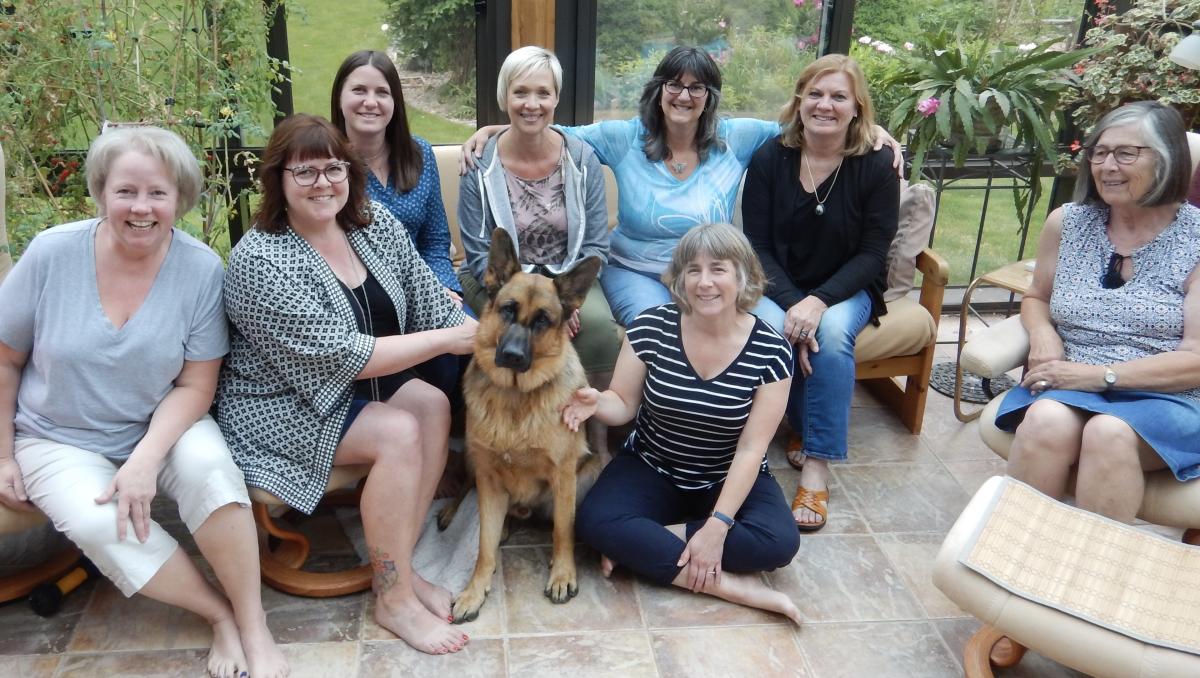 The ICU team ensures the level of comfort and affection the patient needs to avoid stress. The work can be intense and emotionally demanding. 
"In the early days of building the ICU, I was very grateful to have my veterinary technicians beside me as we learned about the specialty and built the service together," says Mathews. "After I became a certified specialist in our field, the technicians followed with acquiring theirs, with the designation of VTS (ECC), or Veterinary Technician Specialty Emergency and Critical Care certification. Their support was invaluable then, as it still remains today."
In photo: Dr. Mathews and her original ICU technicians in 2022. Back row (left to right): Heather, Kathy, Andrea, Ramona, Julie, Deb and Dr. Mathews. Front row: Dr. Mathews' dog Nelson and Adrian. 
Ultimately, collaboration, partnerships and an integrated approach are at the heart of OVC's success in building a model for critical care.
"Working together with other specialties, we are truly optimizing patient care," says Mathews.
"Clients can feel confident about that level of care; their loved one is where they need to be at that moment."  
The Future of Emergency and Critical Care
A new and improved Intensive Care Unit (ICU) is slated to open within the OVC Companion Animal Hospital in 2023, supported by OVC Pet Trust's $8.36-million capital project, Building a Brighter Future for Pets. Renovations will construct a new ICU, as well as specialty service suites for neurology and ophthalmology within the OVC Health Sciences Centre. 
OVC dean Dr. Jeff Wichtel says the expansion and creation of new spaces for critical care at OVC is urgent and essential to continue to help the sickest of the sick, bring the medicine of tomorrow to our patient's bedside, and allow OVC to keep pace with the modernization of health care. 
"Our facilities offer more than just medicine; our veterinary teams are the guardians of our most critical patients," says Dean Wichtel. "Improvements to OVC's critical care and specialty units will enable our team to focus on delivering best-in-class care for our patients; all while educating, training and inspiring the next generation of veterinary professionals."
ICU RENOVATIONS WILL:
Dedicate space (1857 square feet) for veterinary emergency services, which previously coexisted within the ICU itself.
Expand the ICU to a larger, newly renovated space (2231 square feet), increasing capacity by 50 per cent.
Create a flexible space to adapt to patient care needs, accommodating various configurations of dog and cat kennels to minimize stress.
Provide a dedicated workspace for the medical team with clear sightlines to patients.
Offer two separate bays for the most critical patients, each with monitoring capabilities.
Improve design by including zoned lighting for a more restful patient experience that is less disruptive to animals' circadian rhythms.
Provide increased privacy within the ICU to allow pet owners the opportunity to visit companions that cannot be moved for end-of-life care.
This story originally appeared in the spring / summer 2022 issue of OVC Pet Trust's Best Friends Magazine. Join our community and subscribe to the pet magazine of the Ontario Veterinary College.