In Memory 
"What we have once enjoyed, we can never lose. All that we love deeply becomes a part of us." – Helen Keller
Dear OVC Pet Trust,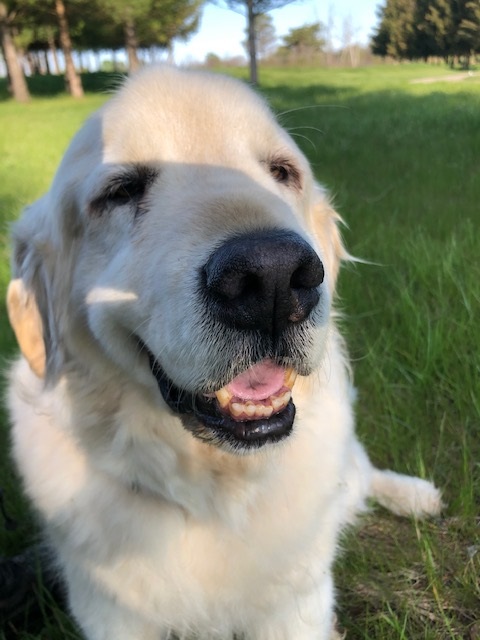 I met Bear on a sunny day in late winter of 2012. He and his sister Daisy had been surrendered to Golden Rescue and I was going to foster the siblings until we could find a suitable home for them. Sadly, when they came into the rescue program, Daisy was diagnosed with end-stage kidney failure and was given a very short time to live. I agreed to provide palliative care for Daisy with the intention that once Daisy crossed the rainbow bridge, we would find Bear a loving, forever home. Daisy and Bear had other plans. Daisy was a beautiful Golden with red curls in contrast to Bear who was such a handsome white boy. Daisy was the very definition of 'feisty' and Bear, in contrast, was extremely chill and laid back. Daisy fought hard against her disease and exceeded all of the experts' expectations in living another eight months after she came to me. And by then of course, I was in love with Bear, and he wasn't going to go anywhere. He had found his forever home.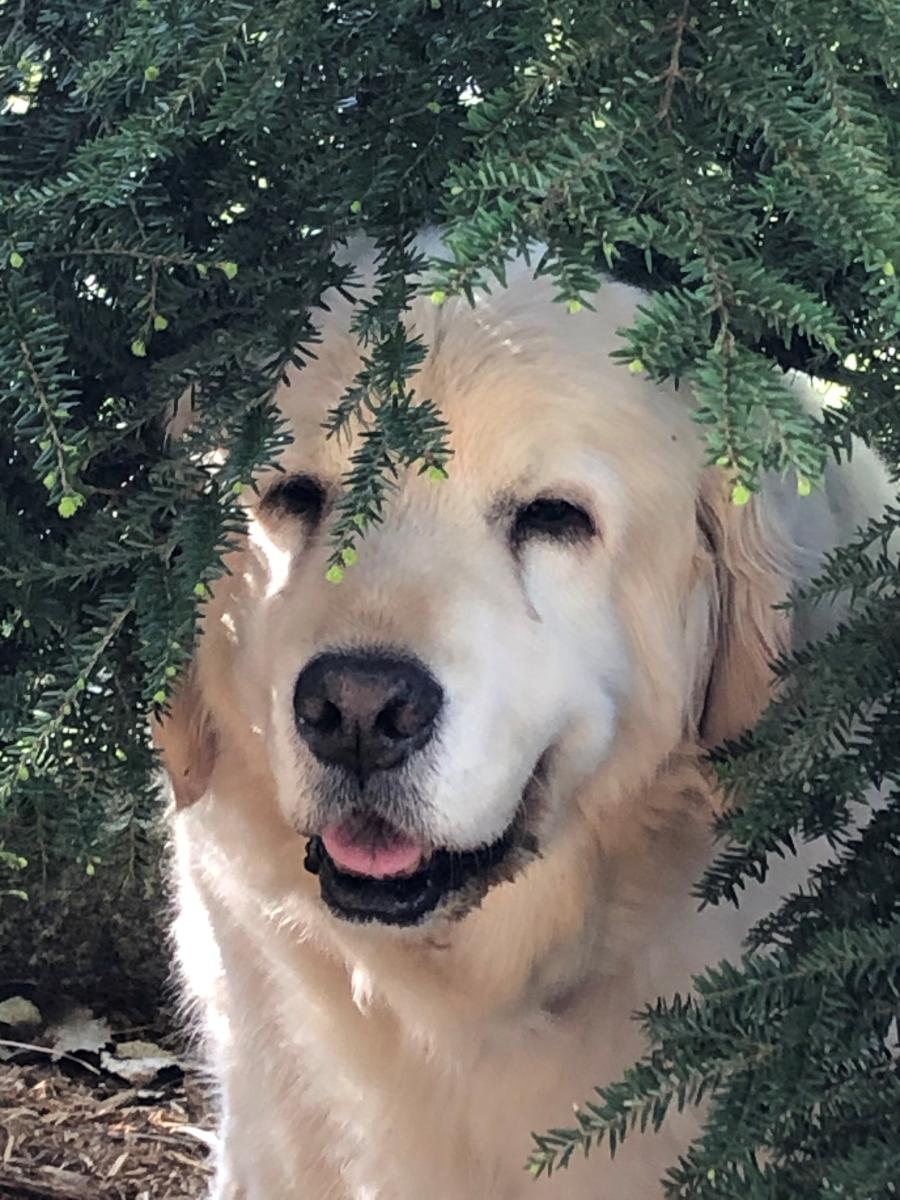 Given Bear's sweet, calm nature it seemed a good idea to enroll him in the St. John's Ambulance Therapy Dog program. He passed with flying colours and his favourite 'job' was to go to the local university at exam time and help the kids alleviate their anxiety and homesickness. He would also come to my place of work for our mental health awareness days. I could barely get in the door before he would be surrounded by his adoring subjects, telling him how handsome he was and giving him lots of love and belly rubs.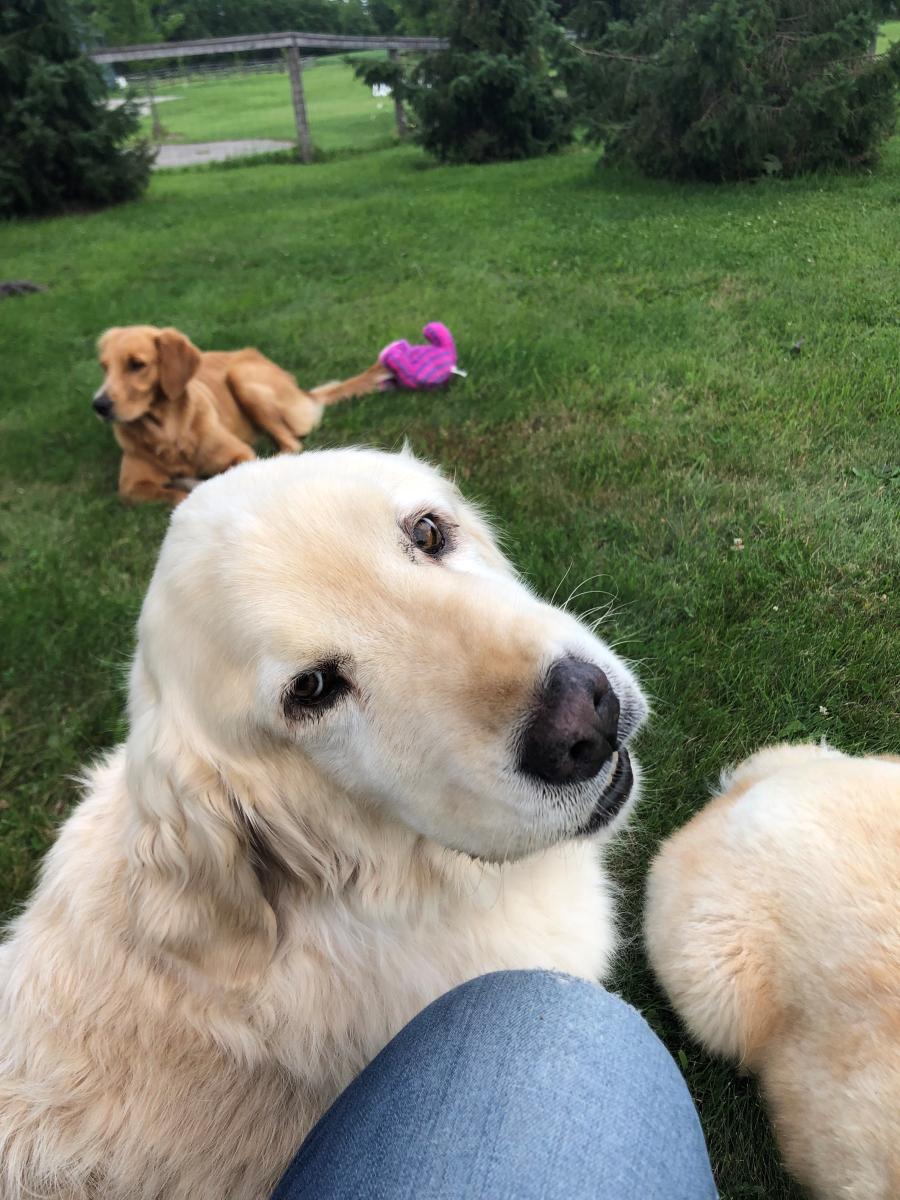 During his lifetime, Bear brought immense joy and peace to many. He had a gift for knowing who in the room needed him most and he would simply sit on their feet until they started to pat him. 
Not a day goes by that I don't think of him and miss him. There will never be another Bear. I believe he was an angel on earth. I have had many dogs in my lifetime, and I have lost many dogs. When the end comes, I take great comfort in knowing that there is nothing I would have done differently during the course of their lives. I want every day to be their best day. When Bear was diagnosed with cancer, I wanted him to get the best care possible which is why I brought him to OVC. Both he and I were treated with such kindness and compassion. Dr. Rebecca Farmer and Bear's oncology team treated him as if he was their own dog. And, at the end, when there was nothing more that could be done for him, I was at peace with the decision to let him go and join his sister Daisy. 
I hope in some small way, Bear's story will inspire others to support OVC so that our animals can continue to receive the world class care that they deserve. 
Kind regards, 
Jane 
London, Ontario
Gifts made in honour or in memory of a beloved pet to OVC Pet Trust support advancements in companion animal health at the Ontario Veterinary College. Thank you to everyone who chooses to give back to improving and advancing companion animal health and well-being in this meaningful way. Make a gift today. 
Access is available to pet loss support resources on our website.