Heading into the family day weekend this past February 2022, Ziggy was not his regular, active self. The 12-year-old Domestic Longhaired cat—who is usually affectionate and energetic—was sluggish and hiding from his owners, Caitlin Hayward and Kevin Procter.
"Ziggy is the kind of cat who will come and greet me after a stressful day of work and try to take care of me," says Kevin. "Hiding from us was very unusual behaviour, so we knew something was wrong with him."
On the Friday afternoon before the long weekend, Ziggy began having periods where his body would get suddenly rigid and then collapse, and his family veterinarian recommended an urgent trip to a specialist. So, first thing on a snowy Saturday morning, Caitlin and Kevin brought Ziggy to the University of Guelph's Ontario Veterinary College (OVC).
"When we dropped Ziggy off for an examination in Guelph I was devastated," says Caitlin. "Every time he would collapse, he seemed so terrified. It was terrible seeing him distressed."
Ziggy's veterinary team at the OVC included Dr. Shari Raheb, assistant professor and board-certified veterinary cardiologist; and Dr. Ananda Pires, veterinary cardiology resident. They diagnosed Ziggy with an atrioventricular block – which meant that the electrical activity at the top of his heart was not getting to the bottom of his heart to pump blood around his body. This block was causing Ziggy's collapsing episodes, which became more frequent as the weekend progressed.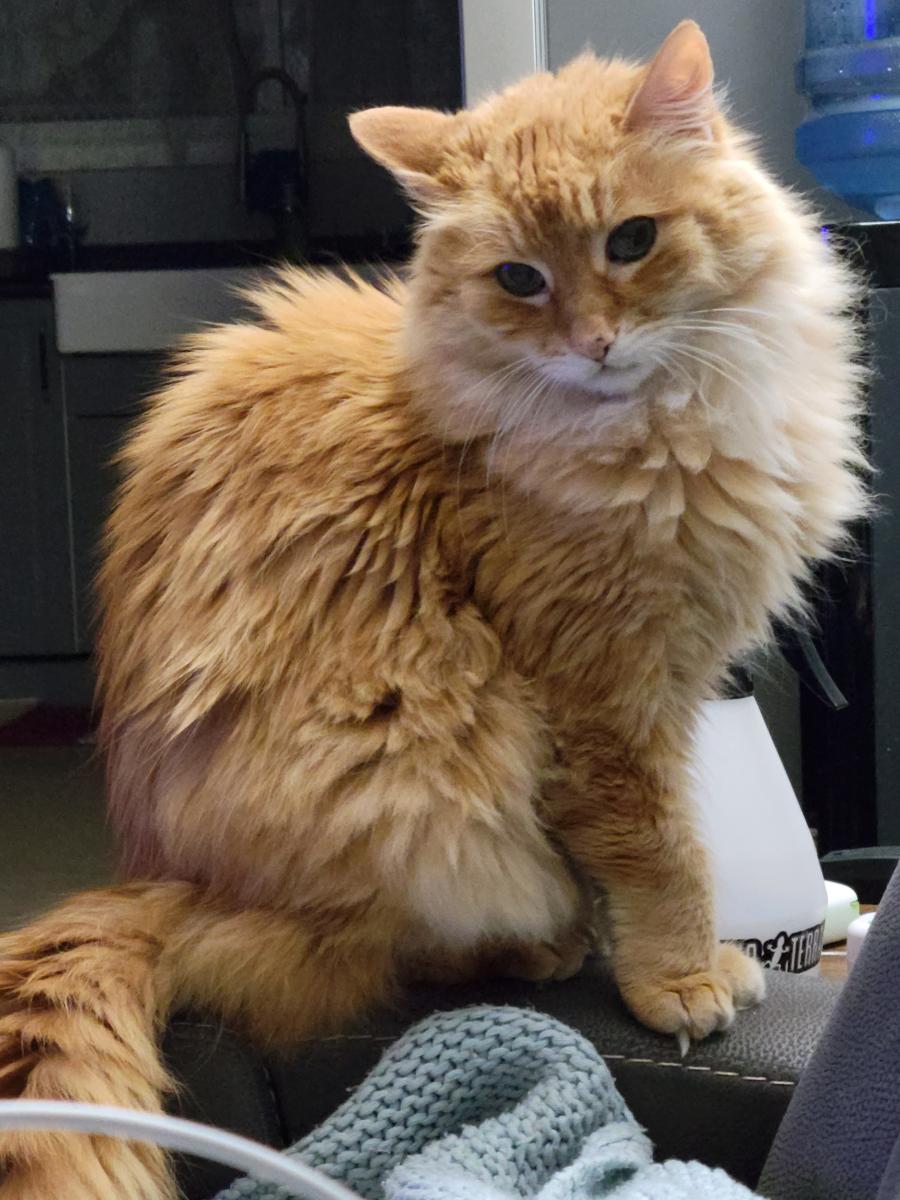 The veterinary team determined that Ziggy would need a pacemaker—a surgically implanted medical device that helps to control irregular heartbeats—to resolve his condition.
"Much like pacemakers used in human medicine, veterinary pacemakers sense the heart beating and paces it when a beat is not detected," says Raheb. 
"To install the pacemaker, Ziggy needed surgery. It's a major procedure that needs a large team of surgeons, cardiologists and anesthesiologists."
At first, the team regulated Ziggy's condition with medication. But as the weekend progressed, Ziggy's collapsing episodes became more frequent, and the medication was not working to control them. Ziggy needed a pacemaker immediately.
"When they told me that Ziggy needed a pacemaker, I was shocked," says Caitlin. "I didn't even know cats could get pacemakers."
Pires and Raheb assured Caitlin and Kevin that Ziggy was a good candidate for the surgery based on his age and otherwise good health.
"We were unsure about the procedure, but after the care team explained that Ziggy would live out a healthy and normal life, the decision to get him the pacemaker was a no brainer," says Kevin.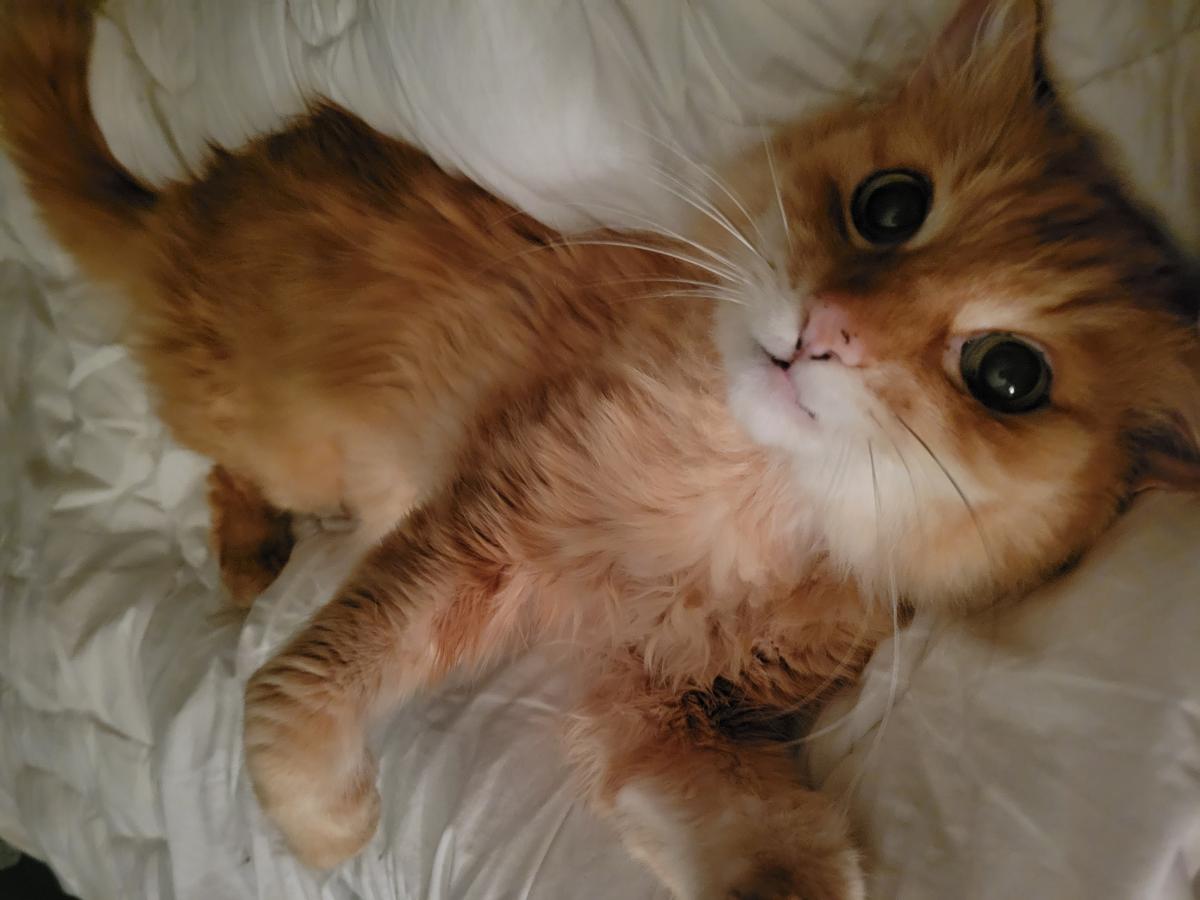 Ziggy was rushed into the hour-long surgery on Family Day and spent the next few days recovering in OVC's Intensive Care Unit. Caitlin and Kevin were in touch with the veterinary team until they finally picked him up to go home.
"Dr. Pires was amazing. She called us two to three times per day to update us on Ziggy's condition, and even sent us a video of him when he got out of surgery," said Caitlin. "Every step of the way she was never too busy to talk with us and keep us informed on Ziggy's progress—this really took a weight off our shoulders during a very stressful time."
After a few weeks of rest and recovery, Ziggy was ready to start climbing, playing and running like he used to. Now, almost six months post-operation, Ziggy is back to his normal self. In fact, Kevin says that Ziggy is more energetic and playful than he ever has been.
"It's like he's a kitten again!"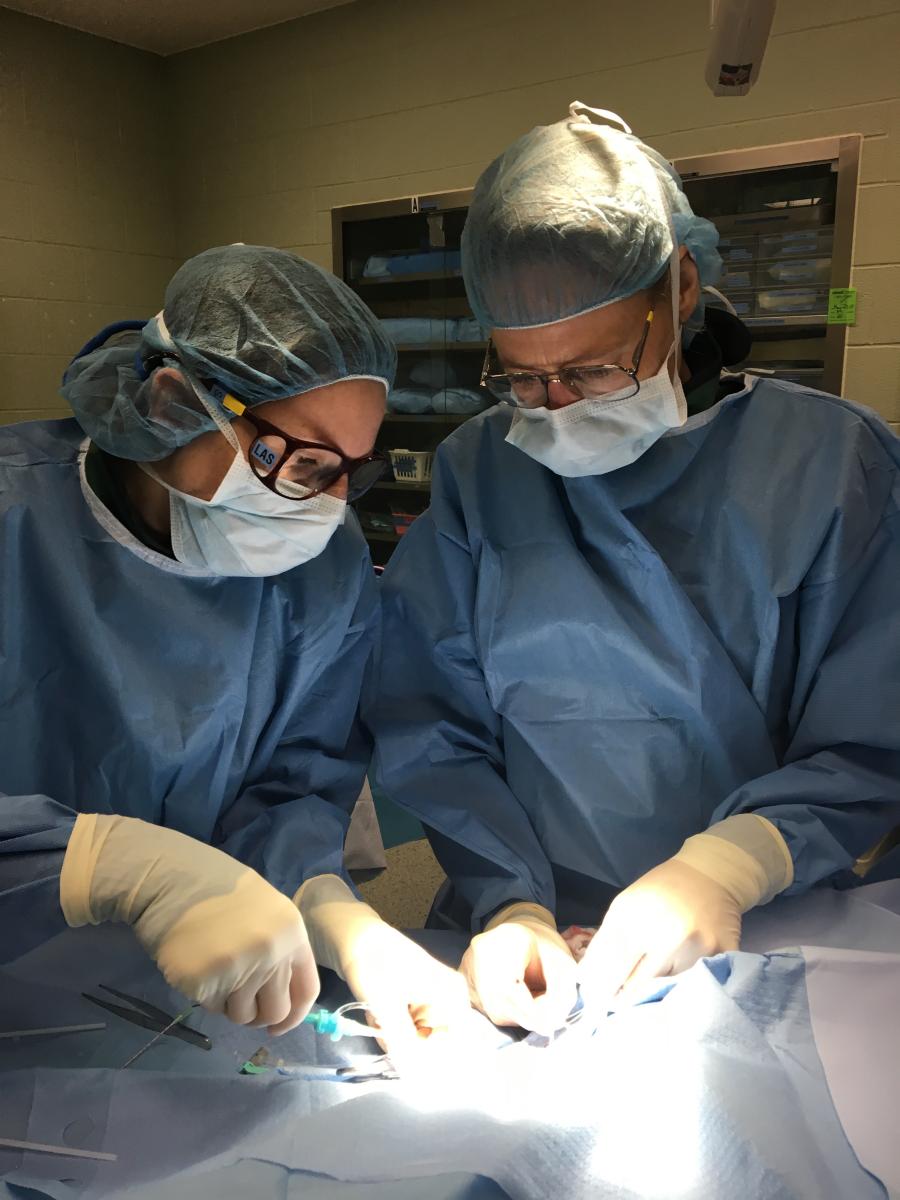 Ziggy's care team says that his pacemaker is working exactly as it should to keep his heart beat regular, and he has been doing very well since the surgery. He is set up to live out a happy and healthy life, and aside from occasional pacemaker check-ups, Ziggy does not need any special or ongoing care.
In photo: Dr. Shari Raheb (left) with Dr. Sonja Fonfara in surgery at the OVC Companion Animal Hospital. 
"The OVC team was amazing—we were so impressed," says Kevin. "If it hadn't been for them, Ziggy wouldn't be with us today."
What pet owners need to know about pacemakers
A pacemaker is a medical device that regulates an abnormal heartbeat.
Pacemakers are surgically implanted, and the procedure can take one to two hours.
Cats that receive pacemakers may be able to live out long and healthy lives.
Your veterinarian, along with a veterinary cardiologist, can help you determine if your cat is a good candidate for a pacemaker based on age and health.
This story originally appeared in the fall 2022 / winter 2023 issue of OVC Pet Trust's Best Friends Magazine. Join our community and subscribe to the pet magazine of the Ontario Veterinary College.