Buddy's Story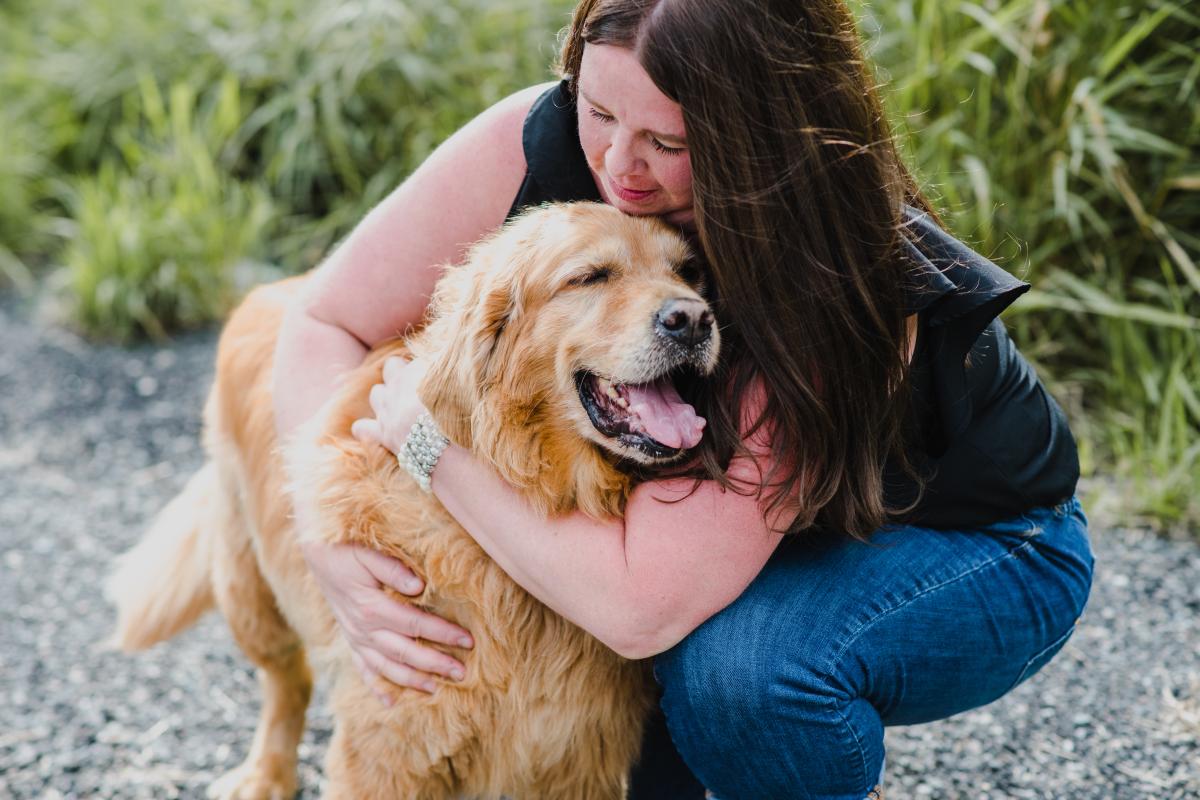 Laura Michel remembers the day she saw Buddy's picture on the Timmins & District Humane Society's Facebook page in October 2014. When she popped by the humane society to drop off money from a recent fundraiser she'd been involved with the following day, she took Buddy – a handsome Golden Retriever who was up for adoption – for a walk, and ended up taking him home that very day. Laura family's had recently lost their two Golden Retrievers only three weeks apart. She vividly remembers a song that had been playing on the radio with the lyrics – "there is no place I'd rather be." Looking back on that day, Laura says it was a fitting tribute to the life her and her family would share with Buddy.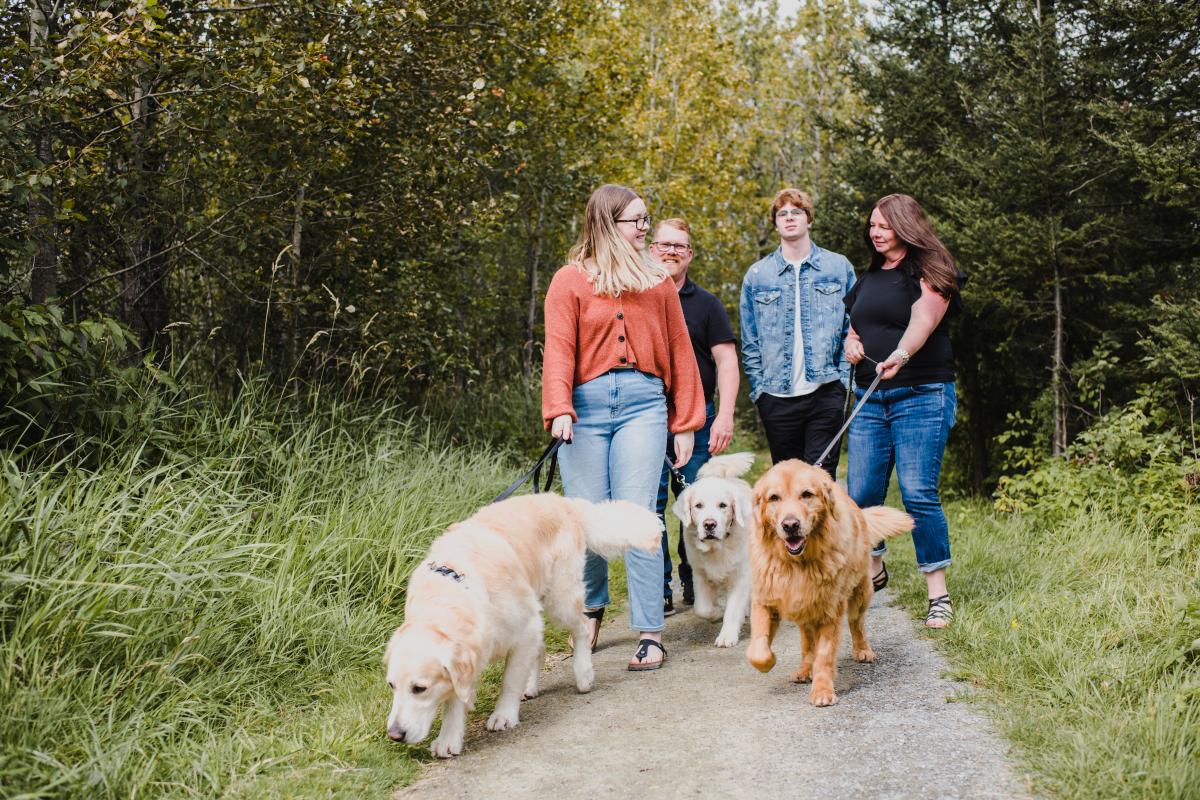 Fast forward to July 2021. It was just a regular day – a warm July afternoon last summer.
"We took our three Golden Retrievers – Buddy, Brady and Boomer – to their favourite lake for a refreshing swim," Laura remembers. "When it was time to go home, the dogs piled into our SUV. As we were driving home, I looked back at Buddy – between his two soaking-wet brothers – and suddenly, his head fell. I immediately pulled over and tried to cradle him in my arms, but he was unresponsive. Panicked thoughts ran through my mind and I rushed him to our emergency veterinary hospital here in South Porcupine as fast as I could."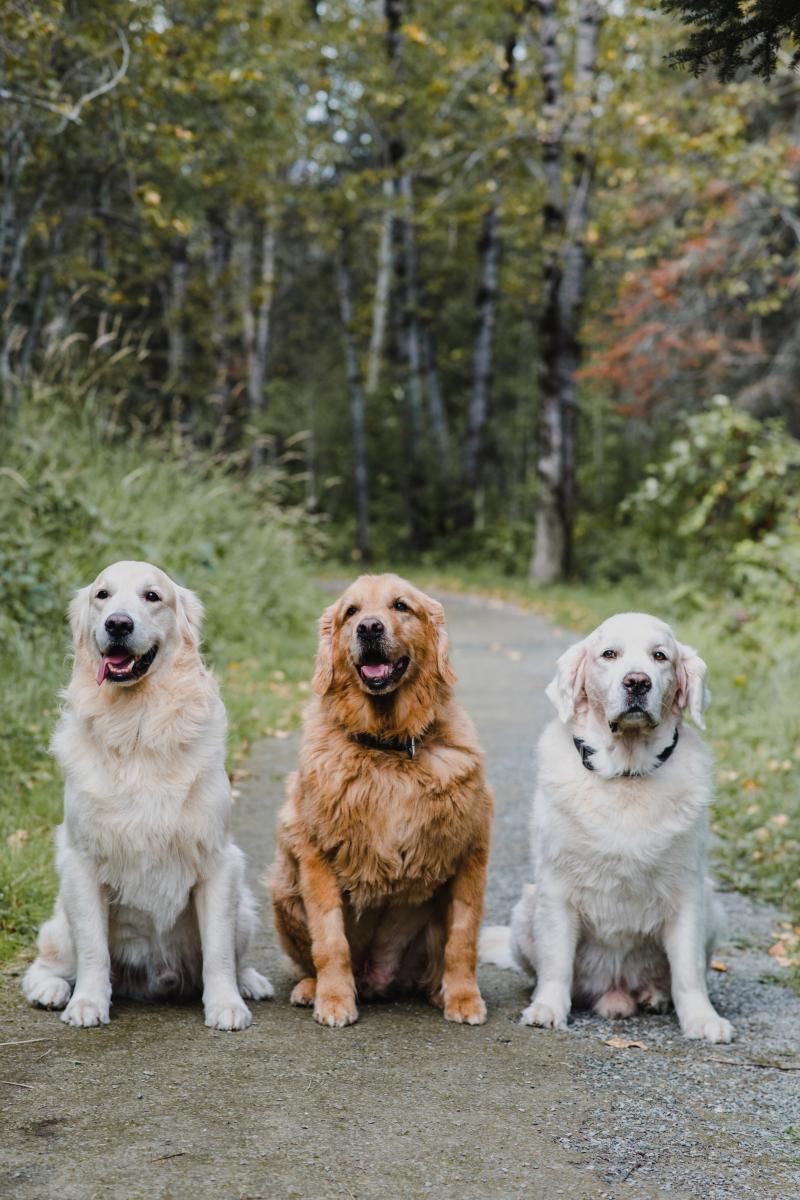 Radiographs (X-rays) showed that Buddy's spleen was enlarged. After evaluating Buddy's clinical signs and performing an ultrasound, their family veterinarian suspected it may be cancer – a typed called hemangiosarcoma – a highly invasive cancer of blood vessels that is unfortunately common in dogs.
Laura's heart sank. The Michel family had been to the Ontario Veterinary College (OVC) before – when their beloved Golden Retriever Carter battled bone cancer back in 2011.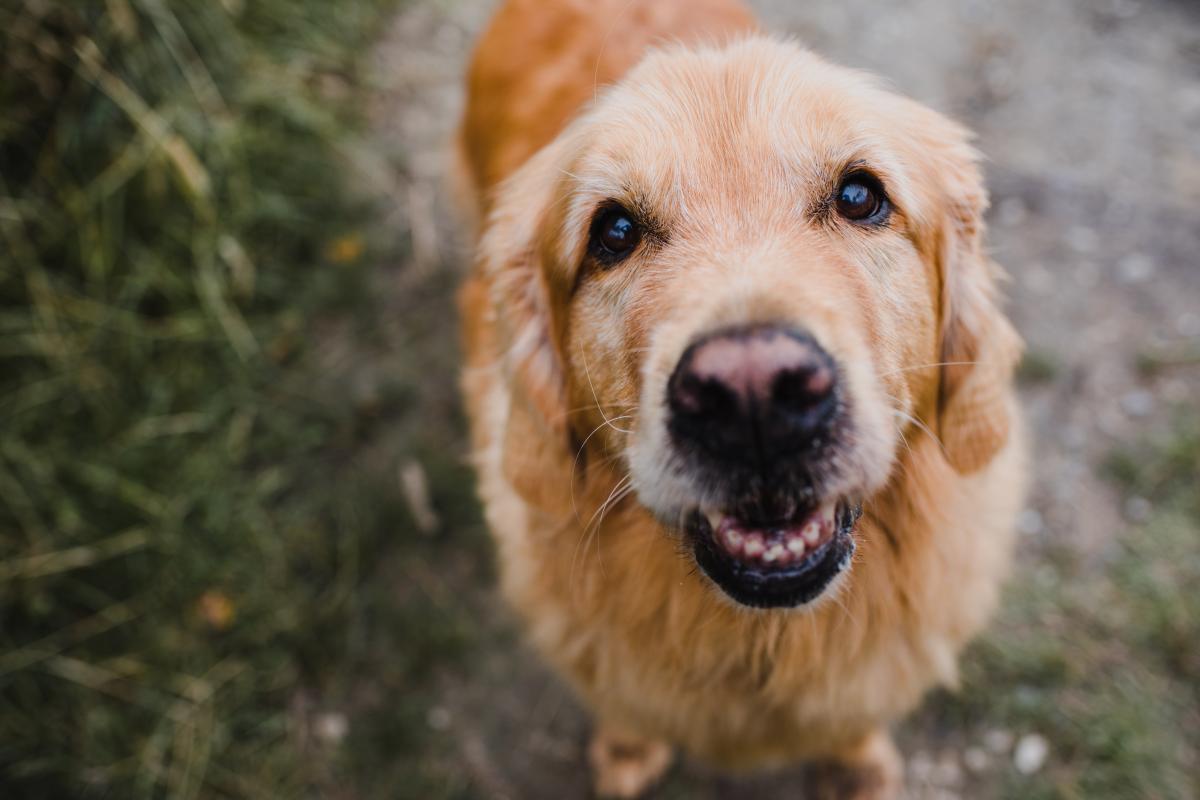 "Our worst fears were about to become reality again. Our family veterinarians, Drs. Carla Mascioli (OVC DVM 2007) and Phil Levis (OVC DVM 2016), referred us to the oncology service at the OVC, but warned us that capacity had been strained because of the pandemic. My husband Lonny and I prepared Buddy for the long car ride to Guelph as soon as we got word that the OVC oncology team could see us. A couple days later Buddy's diagnosis was officially confirmed – hemangiosarcoma. Given he was stable, the team suggested that we operate that very day. Surgery to remove his spleen and part of his liver was a success but unfortunately for Buddy and us, the emotional rollercoaster wasn't over. There have been many bumps and scares since that day in July 2021 – including a scheduled (and cancelled) euthanasia appointment when we thought the end was near and it was almost time to say goodbye – but Buddy always seemed to bounce back."
 
With treatment, Buddy was originally given three to six months to live. Even with chemotherapy, less than 10 per cent of patients diagnosed with this type of cancer survive more than one year after diagnosis. When you hear those odds, it's daunting, Laura reflects.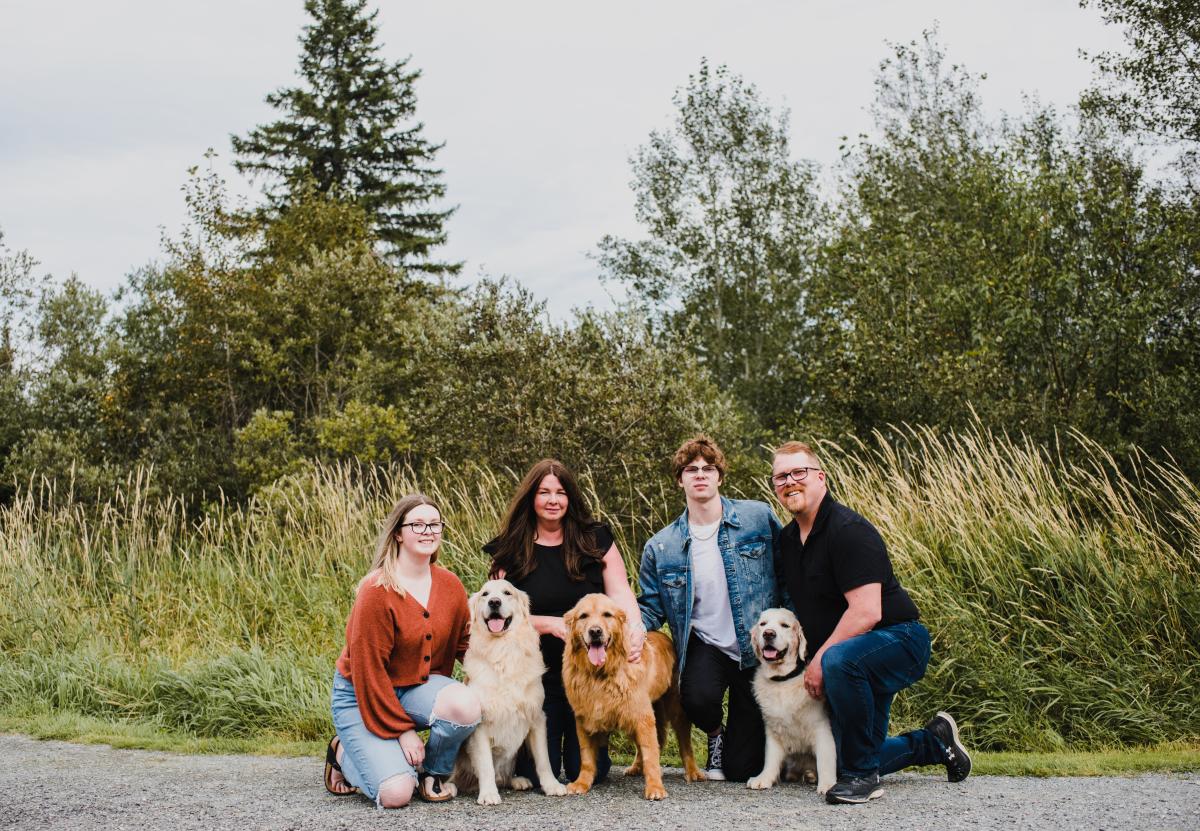 This fall, Buddy's family shared their story with thousands of University of Guelph supporters through OVC Pet Trust's annual fundraising campaign appeal. 
In their heartfelt letter to OVC Pet Trust supporters, Laura and her family expressed gratitude for the care Buddy (their "Miracle Dog") has received and the compassion her family has experienced since his cancer diagnosis.
In October, Laura wrote: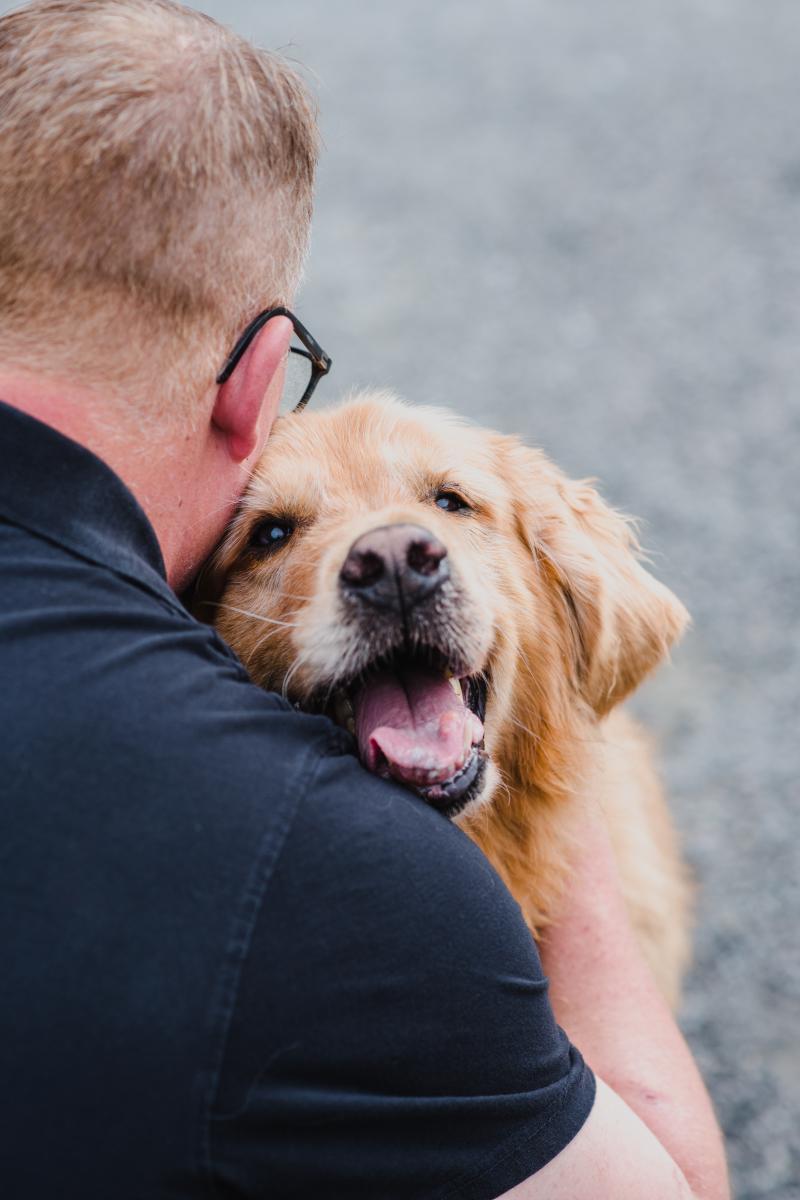 "I knew that if we stood by Buddy, he would fight to stand by us. While the fact that Buddy is still with us today is nothing short of a miracle, I recognize it's a miracle that turned into reality from the tireless efforts of so many who believed in Buddy. From Buddy's unbreakable spirit; to our family's unwavering belief that he could do this; to Buddy's incredible local veterinary care team at South Porcupine Animal Hospital; and to the generous souls at OVC. It's hard to find the words to express our gratitude and appreciation. I count my lucky stars for our entire team at the OVC – especially our medical oncologist, Dr. Danielle Richardson (OVC DVM 2002). Buddy has incurable cancer, but somehow Dr. Richardson's presence, passion, and support – and the love she has for what she does – has made a heartbreaking time a little bit easier for our family. Buddy is here with us today (sitting at my feet as I write – he is such a mama's boy) because he had access to the healthcare he needed to survive and maintain a great quality of life. Thanks to your continued support of OVC Pet Trust, the OVC team can continue research and innovation to improve and advance pet health – not only helping other dogs like Buddy, but finding new, better ways to treat the patients of tomorrow. It's my hope that Buddy's story inspires you to give to OVC Pet Trust. Your generosity today will support innovative discoveries, education and healthcare that improves prevention, diagnoses, and treatment of disease in our pets – including cancer. Thank you for making it possible for the OVC Companion Animal Hospital to save lives and keep families together for longer – each and every day."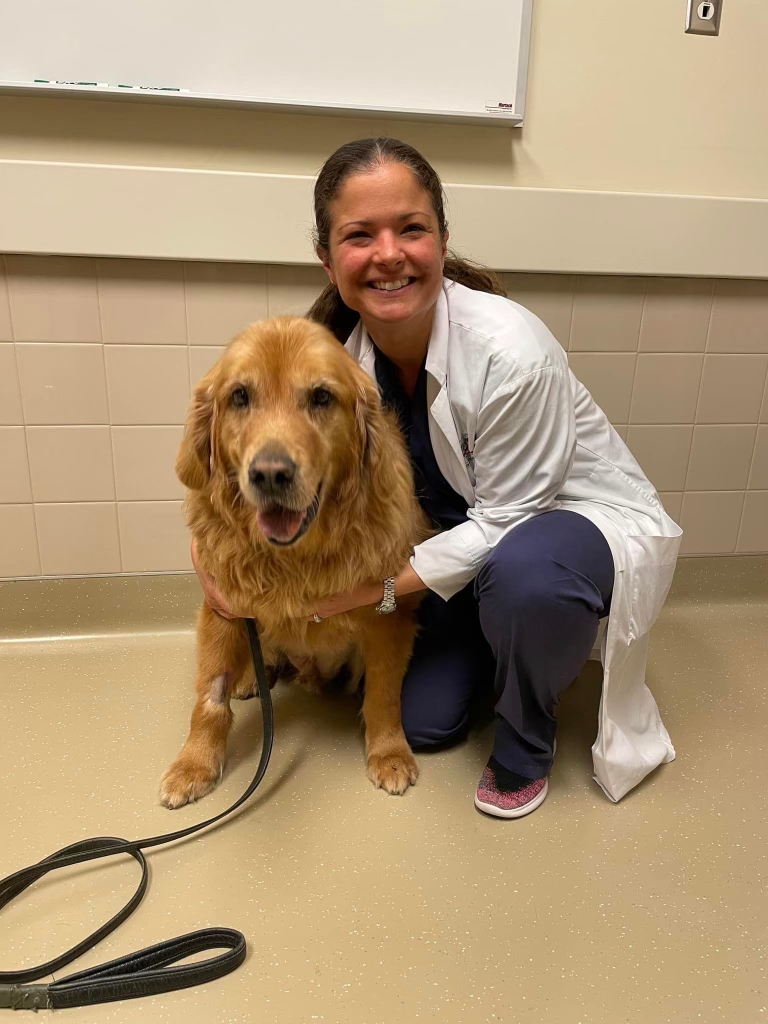 Laura and Lonny acknowledge they think it's important to highlight that research funded by OVC Pet Trust doesn't only benefit dogs – there is also a translational component and many studies help humans too. "We know the progress that's been made wouldn't be possible without OVC Pet Trust – whose mission it is to improve life for pets – and every donation helps the animals we love and care for," Laura says.
Sadly, the Michel family said goodbye to Buddy on October 18, at the age of 10, after a 15-month battle with hemangiosarcoma.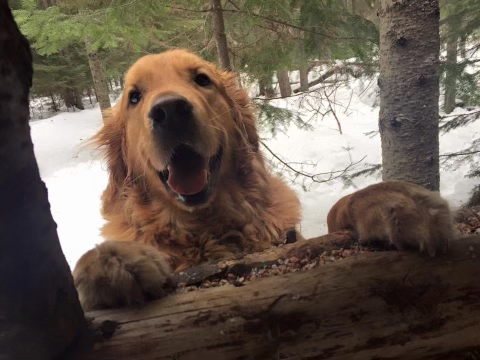 Buddy loved his family fiercely – especially Laura and Lonny's two children, Emily and Alex, and his two Golden "brothers" Brady and Boomer. He was a true Retriever: he loved to swim and his favourite toys were squeaky balls.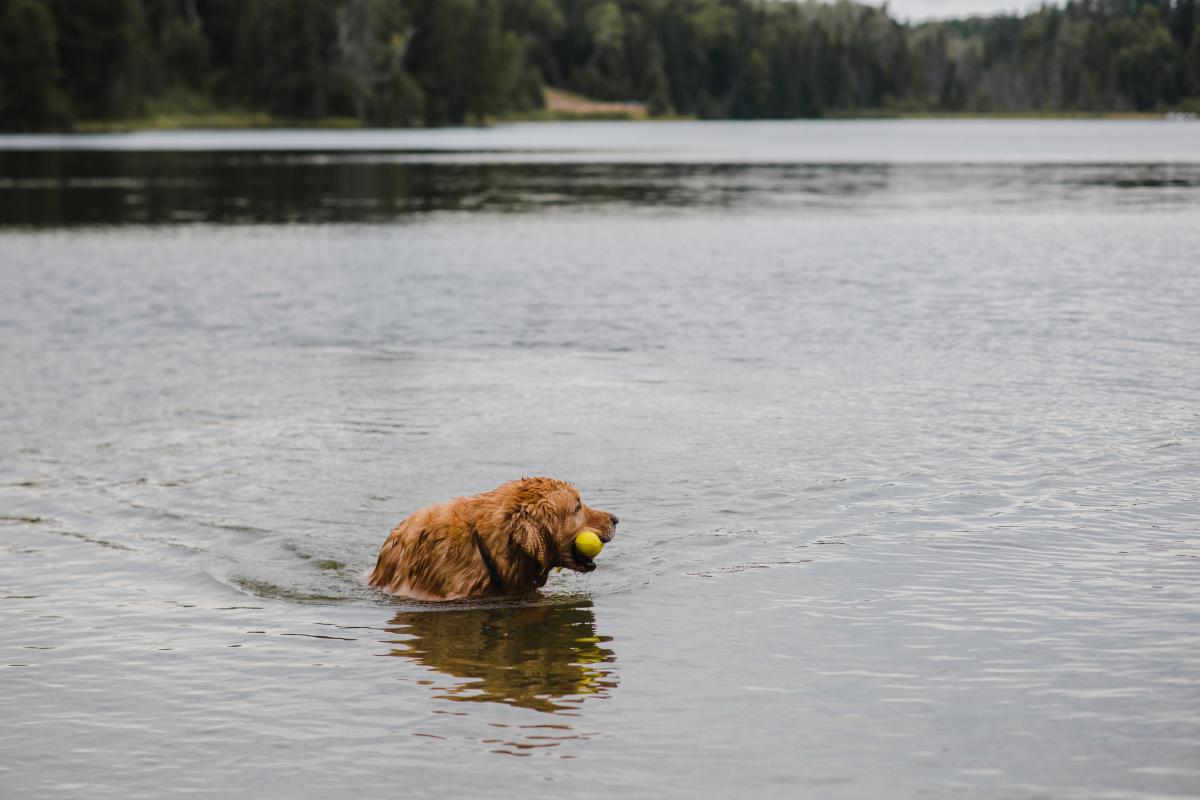 The void that Buddy has left in the Michel family is hard to put into words, Laura says. She hopes that Buddy's story will help other pet owners, and that people will be encouraged to support OVC Pet Trust to help advance veterinary medicine for patients like Buddy in the future.
"It's my hope that our Buddy's legacy will always live in on all those who supported us and continue to support OVC," Laura says. "Buddy was truly a miracle boy in so many ways and our lives will never be the same without him."
Learn more about the work of OVC Pet Trust.