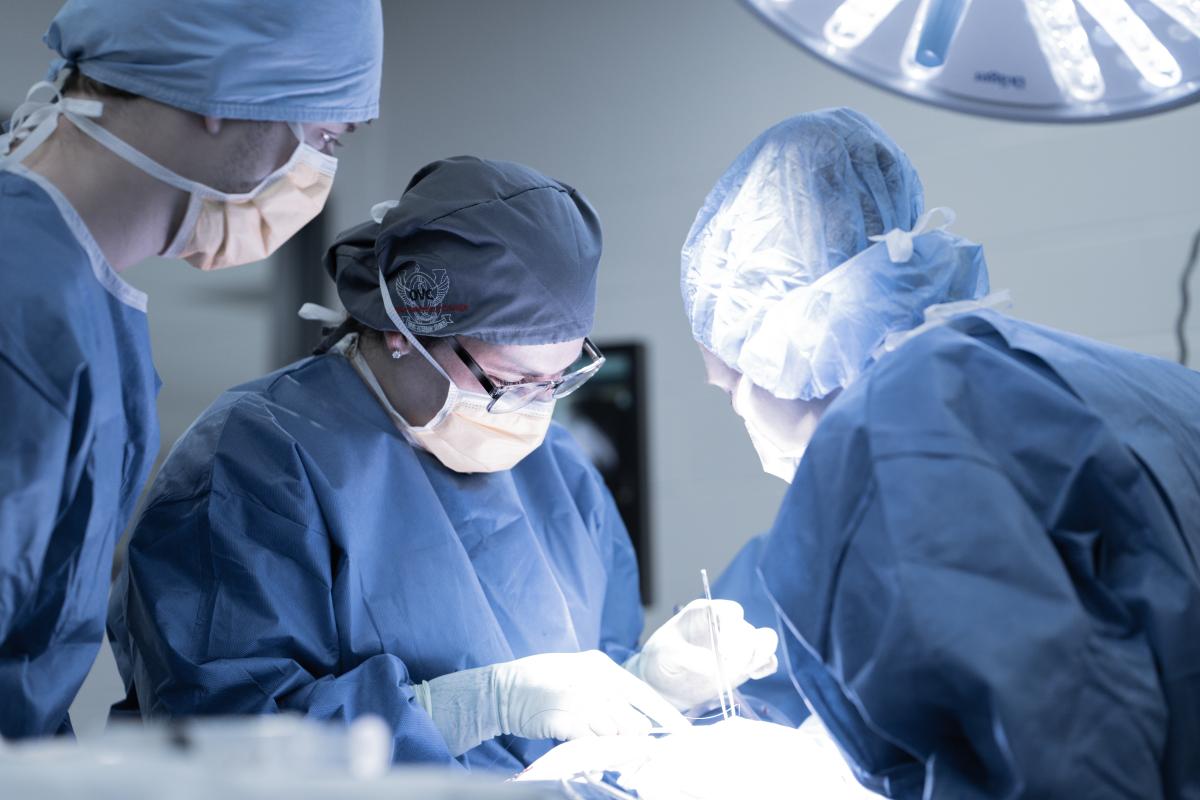 The operating room (OR) is a magical place.
There's an exquisiteness about it that's captivating and invigorating for a visitor experiencing it for the first time. It's messy, yet sterile. Tranquil, yet nerve-wracking. Serene, yet intimidating. Bright lights and beeping monitors take over the senses. One can appreciate the complexity – and beauty – of the fine balance between life and death here. At the same time there's an overpowering sense of security and comfort that fills the space. This is where the fixers, the menders, the healers and the helpers work.
Dr. Brigitte Brisson (pictured with her team in the OR) is one of the fixers and there's a swiftness, a powerful energy, a purposeful precision that's unparalleled in her operating room. Brisson is a board-certified small animal surgeon and has worked in clinical practice for more than 25 years.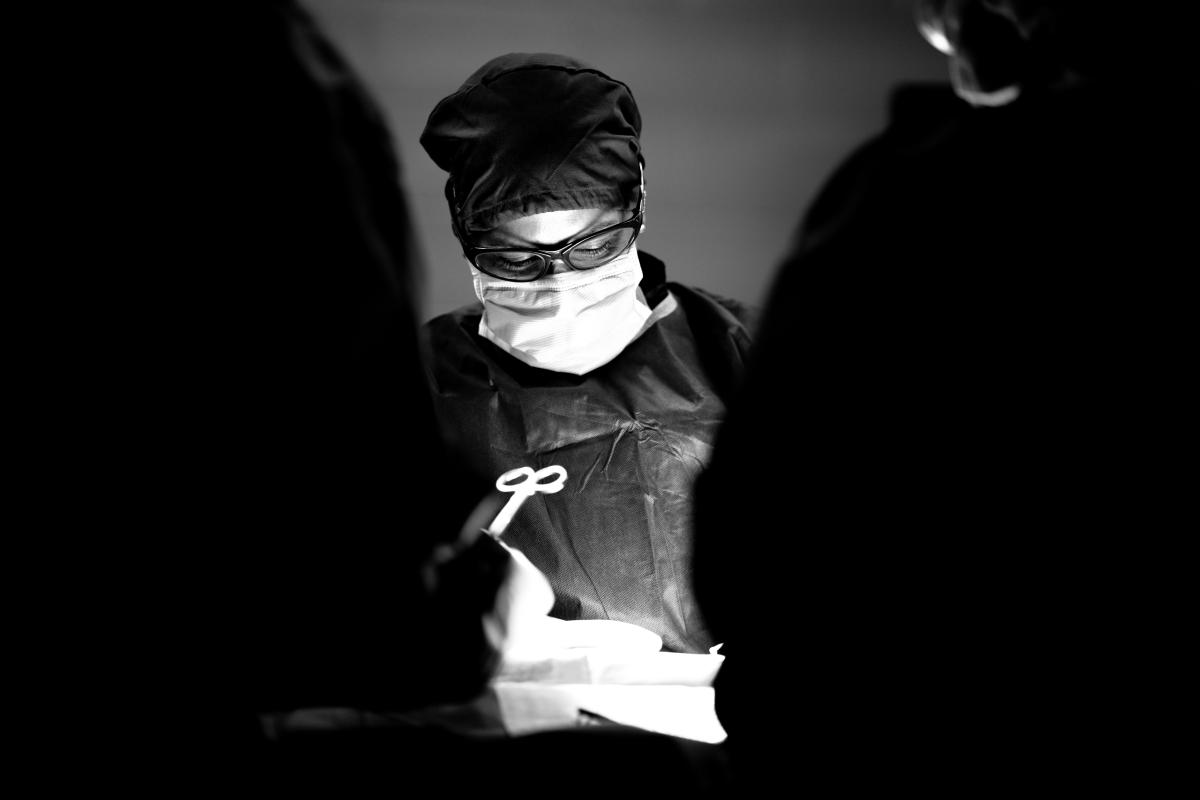 Many Ontario Veterinary College (OVC) faculty like Dr. Brisson are not only clinicians but are researchers too – scientists who are in pursuit of new findings, new learnings and new answers to help manage health and disease in pets in their respective area of expertise, which sometimes even lead to helping people too. They're also delivering care in a teaching hospital; imparting knowledge, clinical skills and inspiration to the future generation of veterinary professionals, which is compelling to observe in Dr. Brisson's OR.  The value of mentorship and hands-on learning is vital for trainees working towards a career or specialization in veterinary medicine.
Photos: Inside the OVC Health Sciences Centre, Dr. Brigitte Brisson and her team perform surgery in the James Slaight Advanced Surgical Complex. Photo credits: Spencer McMillan.
 
Welcome to the world of small animal surgery at the OVC Health Sciences Centre (HSC). Join us as we go behind the scenes for a day in the life of a companion animal surgeon in the James Slaight Advanced Surgical Complex, the new home of OVC's Surgery Service. The new space was made possible by a $2.5-million gift from Toronto philanthropist Emmanuelle Gattuso, part of OVC's new $9-million facility improvements. The complex opened its doors in May 2021; it contains eight surgical suites, a significant infrastructure upgrade from the three suites in the old operating spaces that were originally built in the 1950s. The Surgery Clinical Service includes two components at the OVC Companion Animal Hospital: Soft Tissue Service and Orthopedic Service. Together, these two services offer a full range of surgical procedures, including minimally invasive and interventional procedures, abdominal and thoracic surgery, oncologic and reconstructive surgery, cardiovascular surgery and neurosurgery.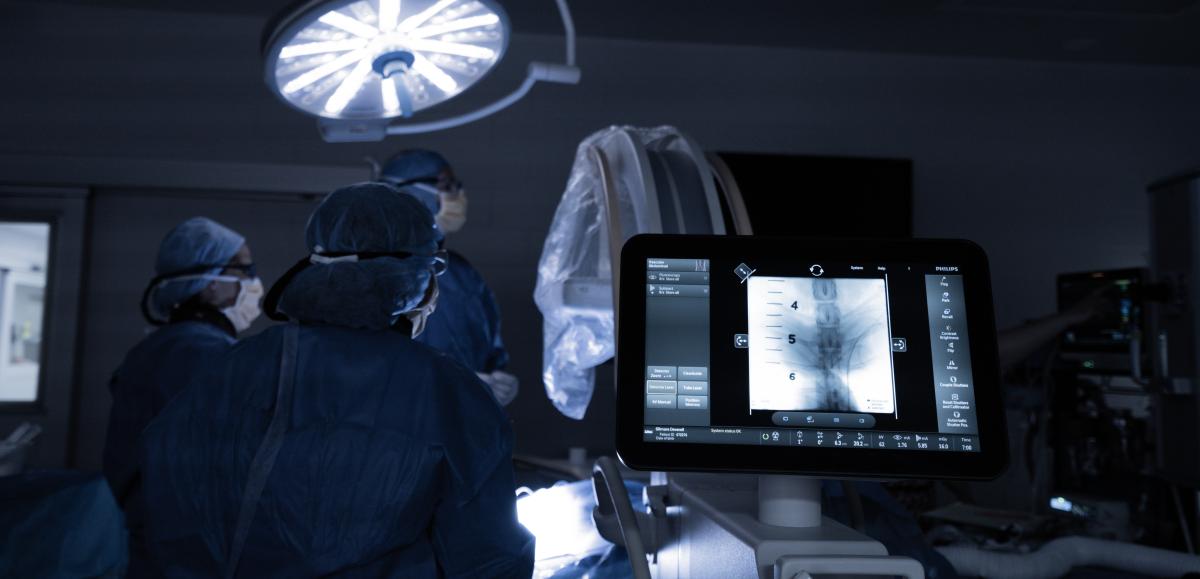 Surgery is both an art and a science, and surgeons are experts at their craft. They have a skillset that allows them to perform advanced lifesaving medical interventions under intense pressure and often difficult conditions. Veterinary surgeons require intricate attention-to-detail, exceptional manual dexterity, and quick and efficient problem-solving skills. It also takes an abundance of stamina and resilience to perform complex procedures on critical patients in a demanding back-to-back schedule, and years of advanced training including an internship and residency after veterinary school. 
If surgery was a sport, it would be an ultramarathon. The long hours, minimal breaks and fierce meticulousness are overwhelming. The flurry of activity inside and outside the operating room is never-ending and at times, grueling, even for the most seasoned practitioners. The patience, precision and perseverance required to succeed in this specialty is infinite. It's a team effort and everyone's in it for one reason: to help animals.
The anticipated flow of the day is mapped out on a colour-coded schedule displayed on a digital screen positioned at the central nurses' station. The planned procedures and cases are plotted in advance as much as possible. In a hospital that delivers the most complex care to the most complex patients, even the best laid plans must be overturned to accommodate un-predictable situations, occurrences that happen most days on OVC's clinic floor.
MORNING – DAY ONE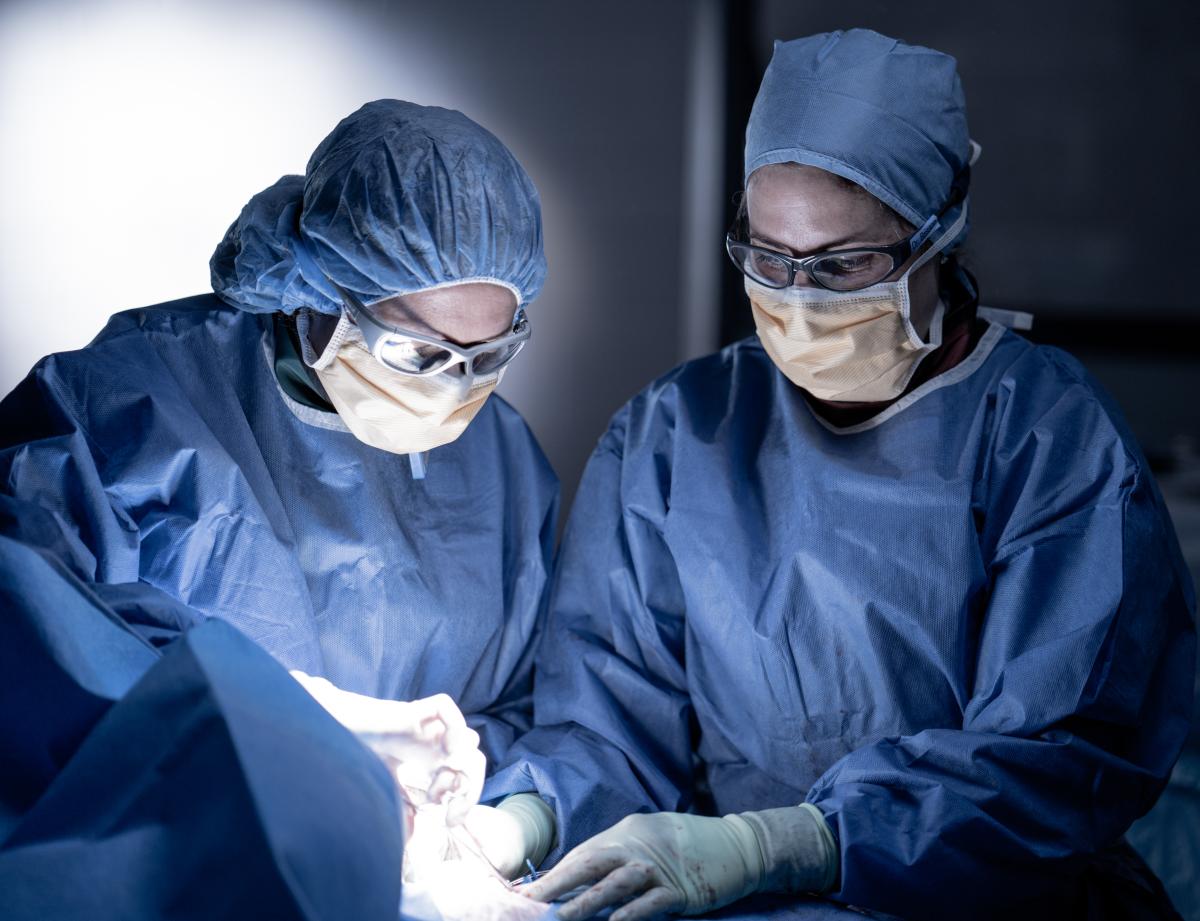 Clinic duties are divided by appointment days and surgery days. Today will be dedicated to surgery. Brisson is joined on clinics this week by two residents: Drs. Samantha Stine and Philippe Larose. Two rotating interns are also on the service this week: Drs. Adam Quinlan and Isabela Del Carpio, both recent veterinary school graduates. For many weeks of the academic year, the team is joined by six to eight fourth year DVM students on their surgery rotation – a key component to their final year of clinical training in vet school – but there are no students on rotation this week.
Four surgeries in dog patients have been scheduled for the hours ahead: an intrahepatic shunt (an abnormal vessel in the liver that bypasses blood from the intestines), a ventral slot (a common surgical procedure to relieve disc herniation in the spine), a bilateral sialoadenectomy (to remove damaged salivary glands / ducts) and a wound closure in a patient with an antibiotic-resistant infection.
Millie, a four-year-old Labrador Retriever is induced by the anesthesia team and surgically prepared for Dr. Brisson and her team. The interventional procedure will involve fluoroscopy, a medical imaging technique that uses real-time X-ray technology to visualize the inside of the body. "Everyone's wearing lead?" Brisson asks. Wearing lead personal protective equipment (PPE) reduces exposure of ionizing radiation during the procedure.
After an hour in the OR, it becomes clear that the previously placed stent and coils prevent the passage of the catheter for safe delivery of additional coils.  The only option would be an approach through the spleen, something the team would need to discuss with Millie's parents. "Thanks everybody – let's close", Brisson says. She provides guidance on Millie's recovery in the OVC Intensive Care Unit (ICU), advising the team to ensure pressure is applied on the incision along Millie's neck while the tube that has helped her breathe during surgery is removed.
Then, after a quick review of a scan of another patient in the duty office, Brisson heads to a quiet exam room to call Millie's owner and provide an update. Brisson uses analogies to describe what's happening in Millie's body and the options available for Millie's people to explore; how these options could impact her quality of life; how to move forward; and what happens to most dogs with Millie's condition. "We'll take good care of her – we promise," Brisson smiles.
AFTERNOON – DAY ONE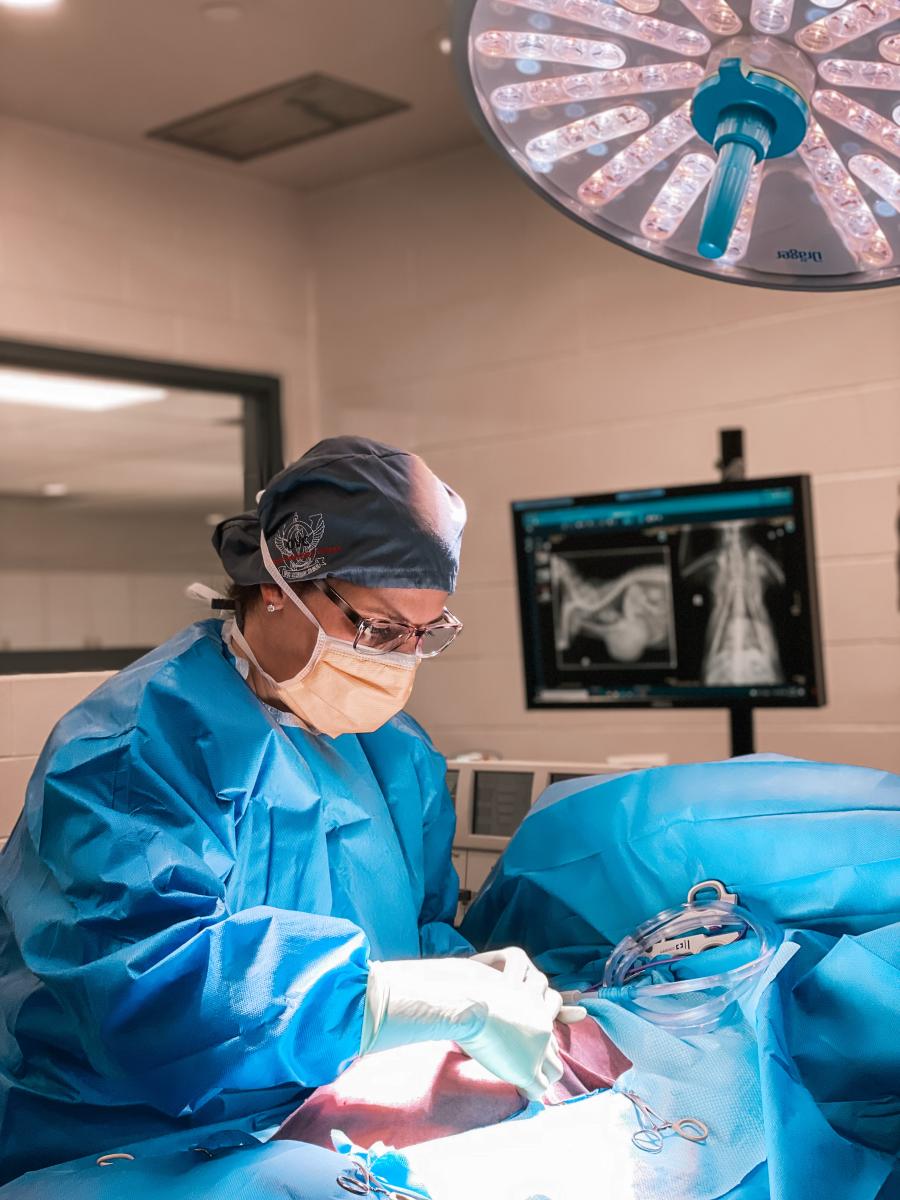 The surgical aseptic technique is a collection of practices that help protect patient incisions from contamination. The sterile field in the OR is a sacred space – it is the area in the OR that is free from disease-causing bacteria or microorganisms. All supplies, equipment and instruments in the surgical field are pristine, meticulously cleaned and sterilized. It's of utmost importance to maintain the sterile field throughout any procedure and this is strictly enforced in each and every OR.
Brisson's next case is a dog named Peanut who will undergo a ventral slot surgery for a herniated disc in his neck. In another OR, Dr. Stine is operating on a dog named Lucy. As the team works, there is a continuous shifting in the schedule to effectively triage the urgent cases that have arrived today. This involves a high level of coordination across the entire OVC HSC.
Like a domino effect, changes in the surgical team's caseload mean changes for the Anesthesia Service, the Intensive Care Unit and the Diagnostic Imaging Service – and potentially other specialty areas too. Specialists are consulted to determine what order the next two surgeries will be in and how best to coordinate sedation and administration of anesthetic drugs to maximize patient comfort. After about an hour in the OR with Peanut, the surgery is a success and without missing a beat, Brisson heads right into Stine's spinal surgery with Lucy.
Brisson shares research with the team as she works, quizzing and teaching in each procedure as the day unfolds. "What do you think? What do you see? How do we best proceed?"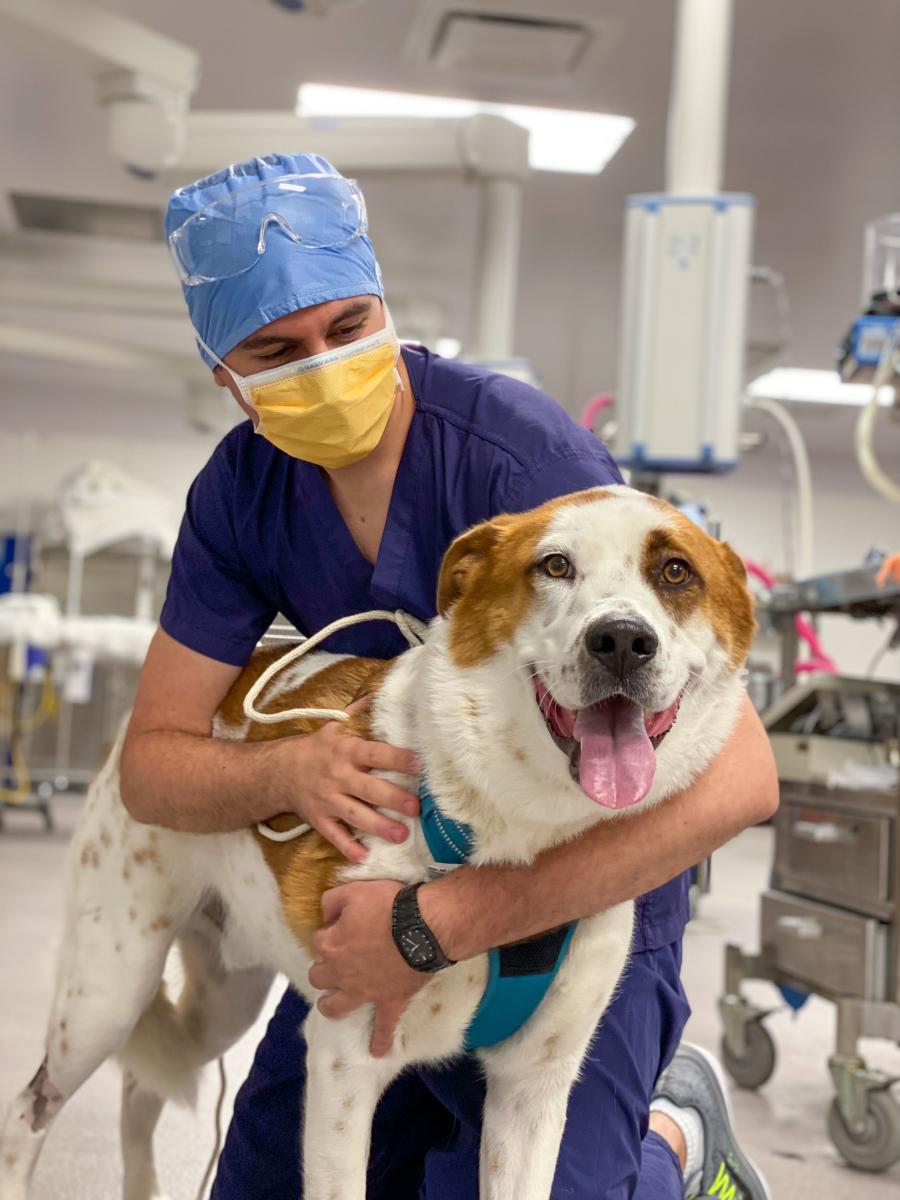 Next up is Archie (pictured), whose bilateral sialocele surgery was delayed by the day's emergencies. This condition occurs when a collection of saliva leaks from a damaged salivary gland or duct and accumulates in the tissues that become inflamed. While Archie is prepped, Brisson takes a five-minute break for a late lunch and then scrubs into surgery. Like a dance, the ebb and flow of the day is well underway. Archie is still in surgery with Brisson as Lucy wakes up in anesthesia recovery and is moved to the ICU, and a Golden Retriever named Russell is prepared by the anesthesia team for surgery with Stine.
It's clear surgeons are used to running on adrenaline. Endurance, tenacity and passion are key to thrive in this profession.
EVENING – DAY ONE
Time seems to stand still in the OR.
As a surgeon, you can't be afraid to (literally and figuratively) get your hands dirty.
As the evening is underway, Archie is in the home stretch of his surgery, and the team notes that it ended up being a bit more involved than they'd initially anticipated. This is a common situation in surgery. Surgeons rely on diagnostic imaging to prepare and plan their best course of action – but sometimes once they're inside, they must adapt and change strategies quickly. The team flushes Archie's wound with sterile saline and inserts a drain as the surgery wraps up.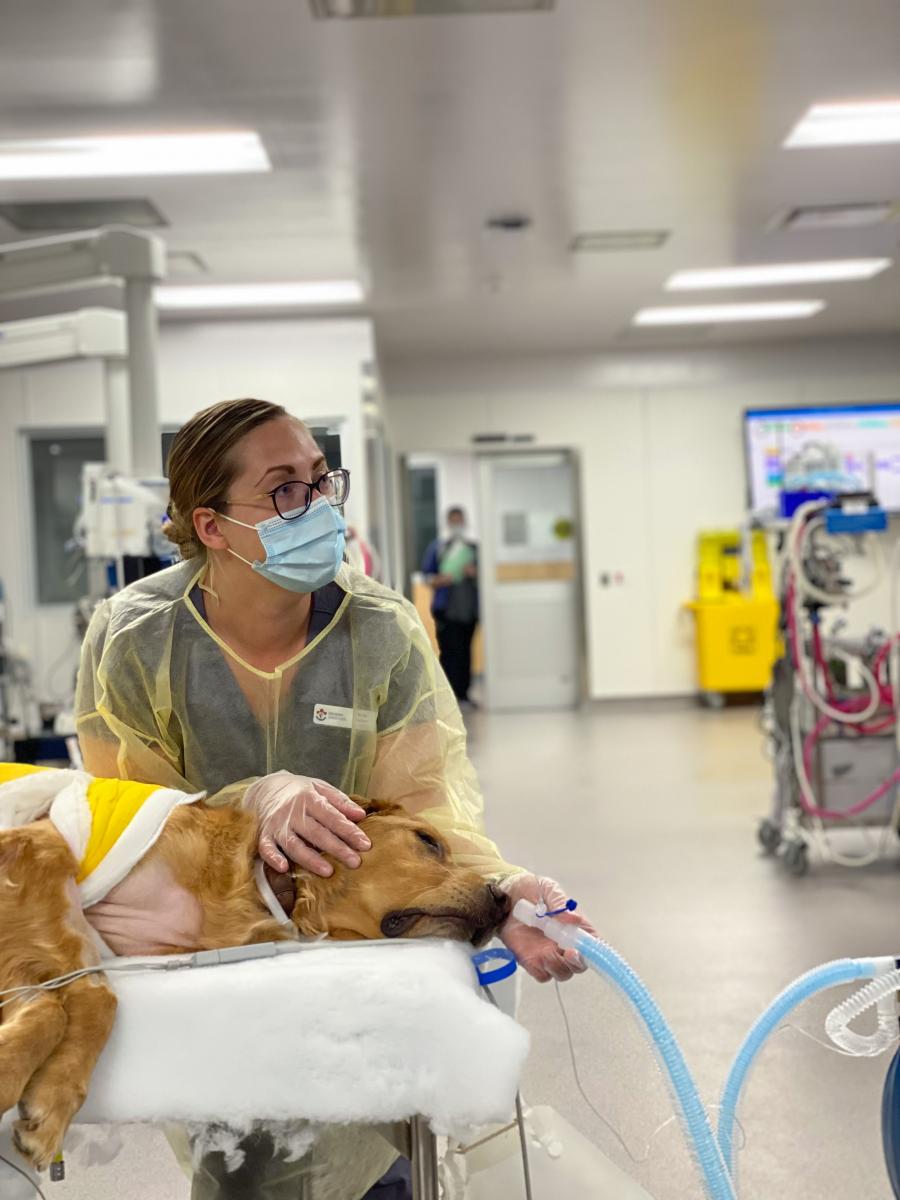 The rest of the evening is jam-packed: telephone calls to update owners are made; checks and physical exams are underway in the ICU on admitted and recovering patients; there is case review, paperwork and preparation for the next day. Patients who are recovering from surgery typically stay in the ICU for approximately 24 hours and are monitored 24/7 by the Emergency and Critical Care team. 
Brisson stops to speak with Larose, one of her residents, about the research component of his residency and an upcoming surgery the following week that will be part of this study: an OVC Pet Trust-supported project that is investigating how to improve patient outcomes and surgeon visualization in dogs who undergo laparoscopic gall bladder removal surgery with the use of fluorescent imaging of the liver. It is a novel imaging procedure in human and veterinary medicine and this research is the first of its kind in dogs. 
Photo: Patient Russell is prepared for surgery in the Kim and Stu Lang Anesthesia and Pain Management Unit. 
MORNING – DAY TWO
The clinical training required to become a veterinary surgeon is rigorous and learning occurs everywhere on the clinic floor of OVC's teaching hospital.
Early mornings involve rounds, case discussion and teaching. The team follows up on their hospitalized patients – Millie, Peanut, Lucy, Archie and Russell – who underwent surgery the day before. Morning follow-up calls with owners are made and discharge plans are underway. By mid-morning, Cashew the cat, a patient with an obstructed ureter (a blockage in the tube that carries urine from the kidney to the bladder), is undergoing a subcutaneous ureteral bypass (SUB) which will restore the flow of urine from the kidney to the bladder through a man-made tube, and provide immense relief for Cashew, who has been developing renal failure.
Shortly before lunch, Cashew's surgery is wrapping up; Brisson says it was the outcome she'd hoped for. She takes off her lead equipment and dosimeter, a device worn by all during fluoroscopic procedures, and checks in on Tupac, a cat cancer patient, in the anesthesia prep room.
AFTERNOON – DAY TWO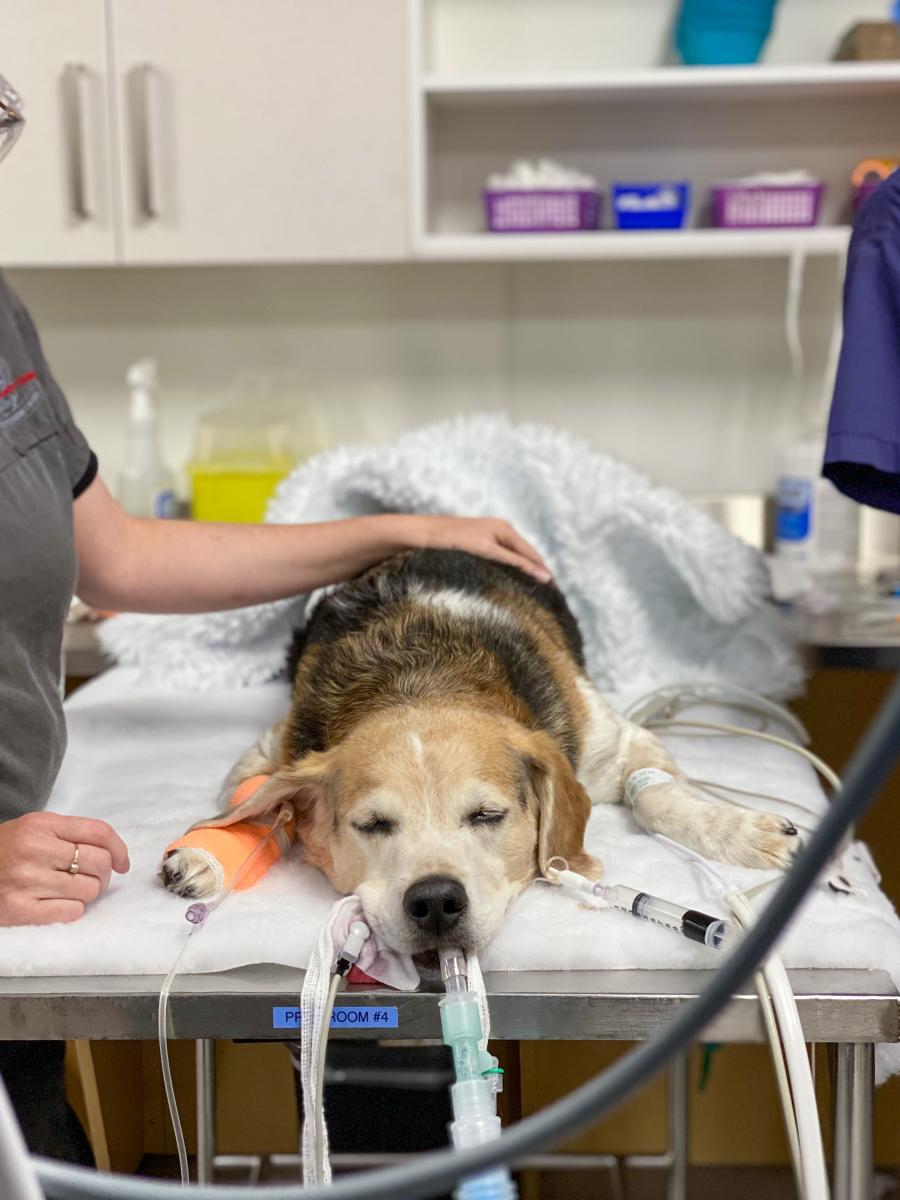 Like a well-oiled machine, the surgery support team work in the background. They continuously stock inventory, track patient billing, perform cleaning and sterilization, and flip ORs so they are ready for the next procedure. 
Photo: Patient Lucy is prepared for surgery. 
Chest radiographs, also known as X-rays, have been ordered for Tupac – if his cancer has spread to his lungs, surgery will not move forward. ICU clinician Dr. Xui Ting Yiew pops in to discuss Cashew's care and recovery plan with Brisson. At the same time, the triage technician inquiries about Buddy, an oncology patient at the cancer centre with a mass on his spleen and in need of surgery as soon as possible.
Adjustments are made to the schedule and the team adapts. Brisson spends 21 weeks of the year on clinics – it's just one of the ways she fulfills her teaching duties as a professor in the Department of Clinical Studies at OVC. She also lectures and instructs labs for student veterinarians in addition to her research and service responsibilities. As a young adult, Brisson considered veterinary medicine and pediatric neurosurgery as potential career paths. It was her love for animals, the variety of conditions and species and the diversity of diseases, that ultimately drew her to veterinary medicine.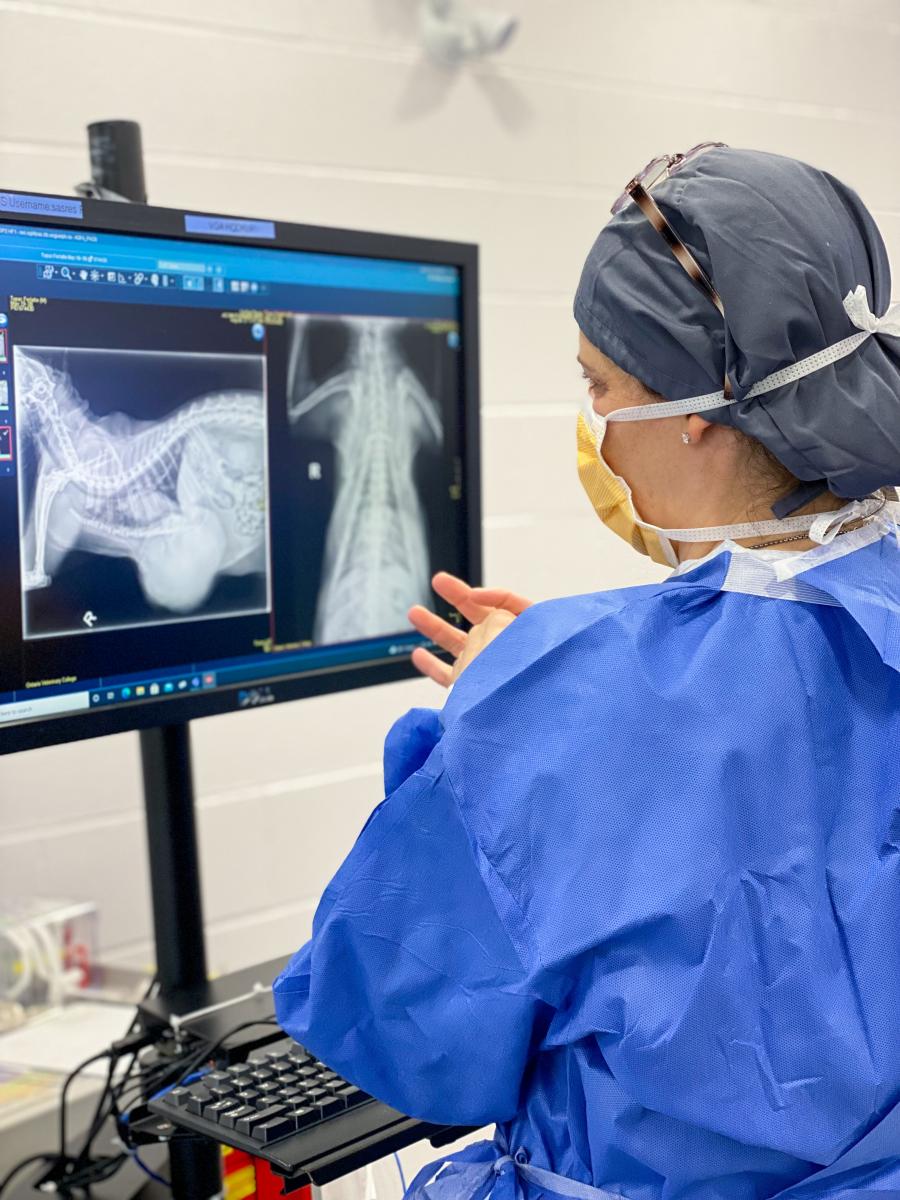 The Diagnostic Imaging team, who also reviewed the previously performed CT scan, confirms that Tupac's cancer has not spread, and surgery is set to proceed. Tupac has one of the biggest sternal tumours Brisson has ever attempted to remove in a cat. Her goal is to excise the entire tumour along with a portion of the sternum and several ribs.  A curative approach is the goal, but it is not always possible depending on the individual case. Given the size of the tumour and its location, clean margins are unlikely to be achieved for Tupac, but his owners want to give him a chance.
Photo: Dr. Brisson examines cat patient Tupac's radiographs in the operating room. 
"We've got you," Brisson whispers to Tupac, as she dons her gown and gloves up. After an almost two-hour surgery, Brisson and her team successfully resect the entire tumour and save most areas in the surrounding tissue in the process, allowing for complete closure of the large defect along the chest and abdomen. Triage consults with Brisson about two other emergency cases as the afternoon flies by.
EVENING – DAY TWO
Brisson calls Tupac's owner to share the good news and guides intern Dr. Quinlan on Millie's discharge paperwork. Buddy, who has had his spleen removed, is waking up and is transferred to the ICU. Dr. Larose checks on Rex and Goose, two of his patients recovering from surgery earlier in the week. Rounds are underway. It's looking like it'll be a late night tonight – Brisson plans to make a quick trip home to see her family and then head back to the hospital in the late evening for an emergency referral – a very long day, with surgery expected into the early morning hours. It's all in a day's work for her and her team.
Even in the brief moments of respite, while expertly navigating the challenges of a typical day in clinics, Brisson enthusiastically champions the importance of teaching, mentorship and inspiring future medical professionals and veterinary leaders.
"It's incredibly rewarding to see our students, interns and residents grow and progress through their surgery training," says Brisson. "The variety of cases and the challenges each day brings is why I love being a surgeon. It is truly a privilege to work with my OVC colleagues who all share a common goal of solving problems and helping pets and their families."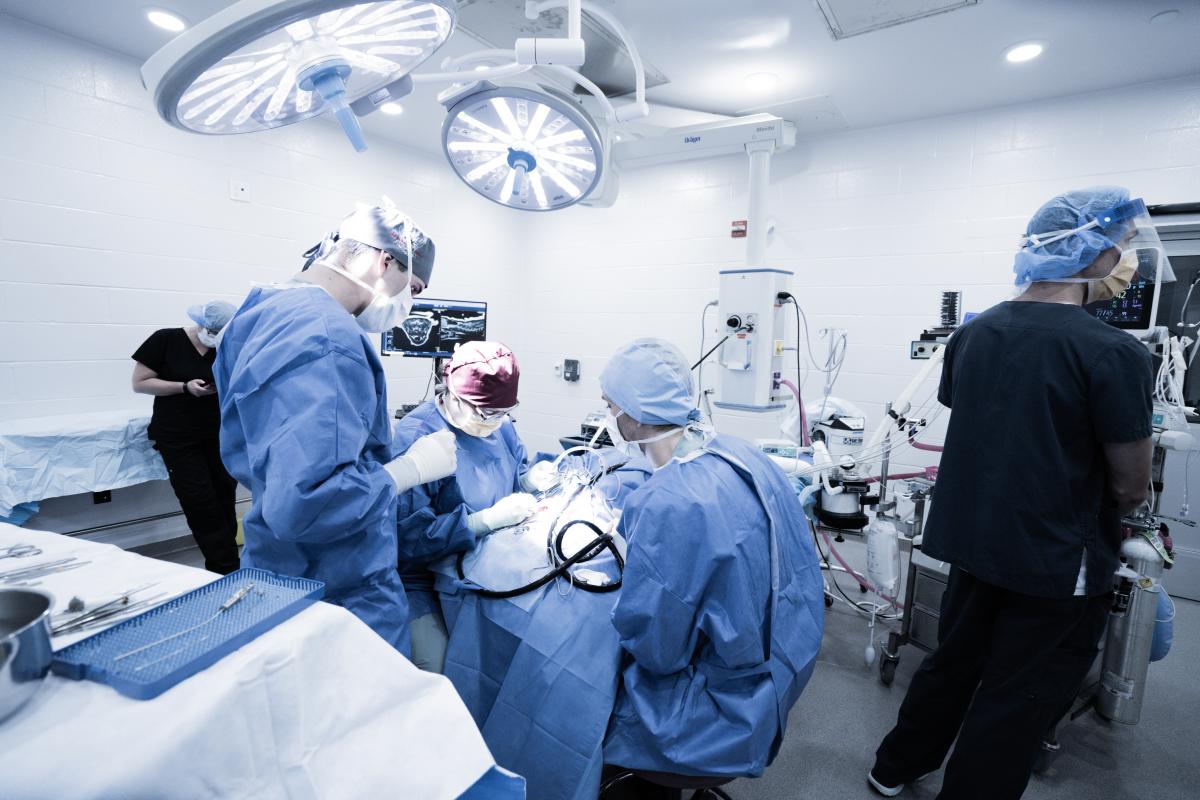 Photo:  Dr. Brigitte Brisson and residents Drs. Philippe Larose and William Hawker operate on a dog patient in the OVC Companion Animal Hospital.
Learn more about the work of OVC Pet Trust.