OVC Health Sciences Centre Opens New Surgery and Anesthesia Facilities, Made Possible by OVC Pet Trust's Friends Together for Longer Campaign
How We Improve Life: Longer, Healthier Lives for Pets 
The halls of the Ontario Veterinary College's (OVC) Companion Animal Hospital look a bit different these days. With the recent completion of a long-awaited capital improvement project within the hospital's surgery and anesthesia facilities, members of the clinical team move seamlessly through their tasks. The team delivers the world-class care and advanced treatment options OVC is known for  — now in a brighter, more spacious environment that has been thoughtfully designed to prioritize patient comfort and recovery. Made possible with the support of OVC Pet Trust's Friends Together for Longer campaign, which launched in 2015 and surpassed its $9-million goal, these new facilities will allow OVC to remain at the forefront of veterinary care, education, training, research and innovation. Most importantly, they will allow patients to experience less pain, recover more quickly and return home faster to their families where they belong.
The new facilities, which opened in May 2021, are starting to feel lived-in. Teams bustle about in their respective areas with the constant, low thrum of medical equipment and monitors serving as a reassuring soundtrack to their daily tasks. The work is demanding and the days are long; but there's a feeling of freshness; a newness that's invigorating. The updated space is physically impressive and remarkable in scale, but one still sees, hears and feels a familiar, soothing energy as the hospital's dedicated team delivers exceptional care to each and every patient that comes through its doors. A comforting embrace; a calm reassurance; a compassionate word of encouragement – these are the hallmarks of OVC's model of care as its team treats the most complex of cases and sickest of patients.
"As one can imagine, the challenges of executing intricate construction projects within an operational and fully functioning tertiary care hospital are complex," says Dr. Stephanie Nykamp, Associate Dean, Clinical Program and renovation project manager. "The new facilities provide a more comfortable and functional setting for staff, as well as an efficient and modern environment with the latest tools and technology for our veterinary teams to practice, train and care for companion animals at OVC."
A Lasting Global Impact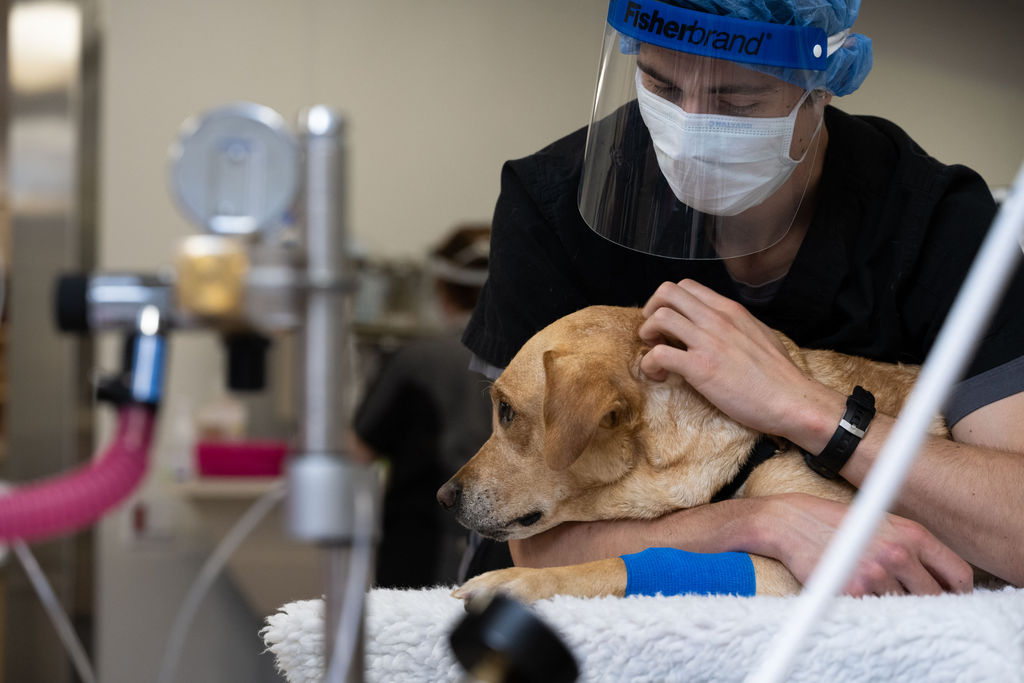 OVC Dean Dr. Jeff Wichtel says investing in infrastructure upgrades are critical to advance the organization's strategic priorities and are vital to maintaining its status as an accredited veterinary college now and into the future. This modernization will ensure OVC remains at the forefront of veterinary education and practice in the delivery of its Doctor of Veterinary Medicine (DVM) program and specialized graduate student training programs, and through advances in scientific discovery and care. In 2021, OVC ranked first in Canada and fifth in the world for veterinary science in a global ranking of veterinary schools.
"OVC has long been a leader in veterinary discovery that pushes the boundaries of innovation in pet care to improve the prevention, diagnosis and treatment of diseases in companion animals," says Wichtel. "These new facilities will have a lasting impact on the training and development of the future generation of veterinary professionals who will go on to treat thousands of pets in communities across Canada and around the world," he adds.
 
An Investment in the Medicine of Tomorrow
The new medical spaces have been a long time coming.
Where the old surgery facilities had just three surgical suites, the new James Slaight Advanced Surgical Complex now holds eight. The complex is also home to the Lindy Barrow Minimally Invasive Procedures (MIP) Suite, a first of its kind at a veterinary teaching school in Canada.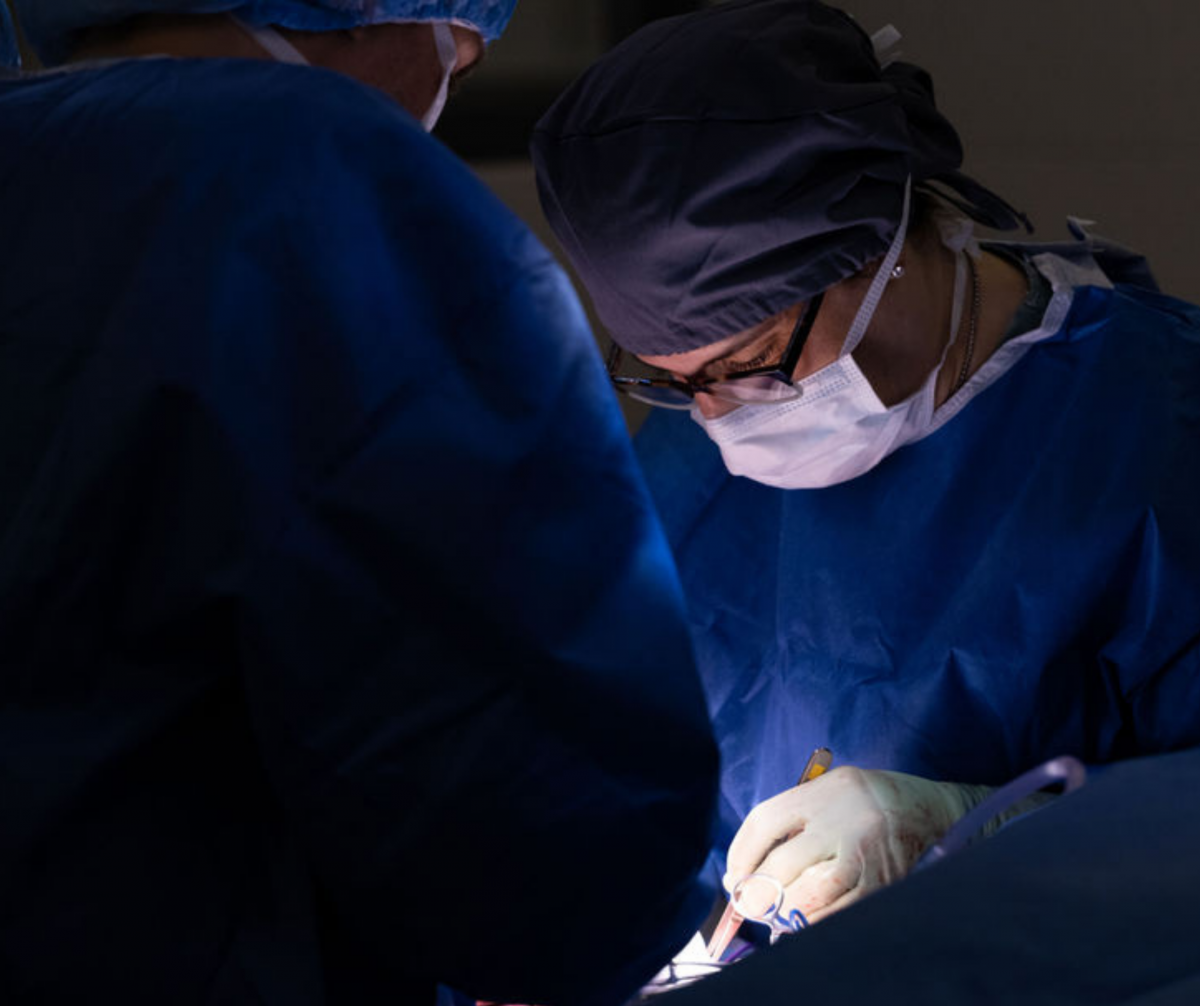 Board-certified veterinary surgeon Dr. Brigitte Brisson (pictured in surgery) prepares to scrub into a spinal surgery as she reviews the procedure with one of her residents. As Brisson and her colleagues take their places in one of the new operating rooms (OR) to treat today's patient, they turn their laser-like focus to the animal on the table. Not only is Brisson delivering lifesaving, advanced care – she's also helping to lay the foundation for the comprehensive care OVC's graduating students from the DVM program and specialists-in-training will go on to provide to the patients of tomorrow. The OR has a dual purpose within a teaching hospital: saving lives and providing immersive training environments for future veterinarians and specialists.
Veterinarians-in-training, patients and pet owners and lovers alike owe a debt of gratitude to the more than 1,600 donors, grateful clients, dedicated referring veterinary hospitals and alumni who helped make the new facilities come to life through OVC Pet Trust's $9-million campaign. Brisson reflects that during her time at OVC she has personally been a part of, or witnessed her colleagues improve the standards of care they implement to help their patients and teach their students. "The new clinical spaces are an investment in the future of veterinary medicine that will ultimately help pets – whether they are physically treated at OVC or by one of our graduates who has been educated in this new facility – live longer, healthier lives," she says.
Modernization for Efficiency and Innovation 

Comfort reigns supreme in the Kim and Stu Lang Anesthesia and Pain Management Unit and the John and Jean Waller Anesthesia Recovery Room. 
Much like a central subway station during rush hour, the Anesthesia and Pain Management Service is a main hub at the OVC Health Sciences Centre. Patients from many clinical services pass through this unit, accompanied by a member of the anesthesia team. They are prepared, induced and wake up from anesthesia and sedation in these spaces. The care team constantly monitors physiological parameters—including breathing, heart rate, blood pressure and body temperature—before, during and after the patient's procedure. The standard of care is not that different between animals at OVC and humans. Human health-grade monitors and equipment line the new spaces; the team performs epidurals, places catheters and measures advanced parameters in patients.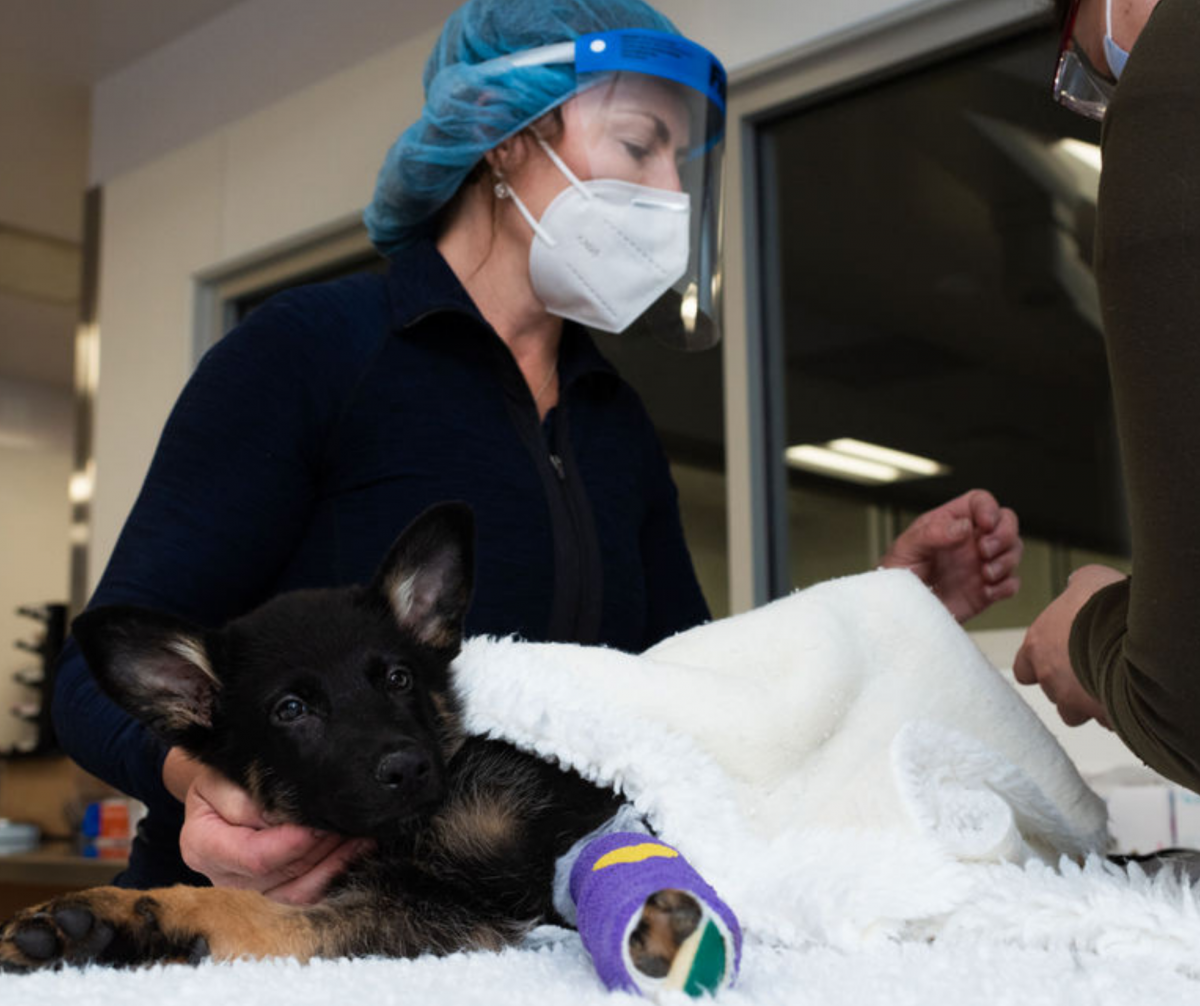 "We have a lot of patients that are very sick. In critical and complex cases, that can be very challenging," says veterinary anesthesiologist Dr. Melissa Sinclair (pictured) as she rests a caring hand on Fenway, a 13-year-old Golden Retriever, as her team prepares the dog for surgery in the anesthesia prep room. Sinclair reviews Fenway's anesthetic protocols with her team. She goes on to explain that animals, like people, undergo anesthesia for surgery. The team works to minimize pain, discomfort and stress for each individual patient. It is also used for diagnostic imaging procedures to keep the patient still, pain-free and relaxed in order to properly assess their medical condition.
Sinclair says she couldn't accomplish the research she's pursued throughout her career without the support of OVC Pet Trust; she's constantly looking for ways to enhance patient safety and minimize the undesirable effects of drugs in her sick patients (anesthetic medications can have side effects on the heart and the lungs). Sinclair views the new facilities as a true transformation in improving patient comfort and recovery. As medicine continuously evolves and the service is busier than ever, the new spaces allow Sinclair and her team to meet the needs of their patients without being held back by older hospital infrastructure. The new anesthesiology spaces are larger and brighter, with a quiet and dedicated area for patients to recover and wake up from anesthesia, separate from the noisier induction area – a distinct improvement for patient comfort and recovery in dogs, cats and other companion animals.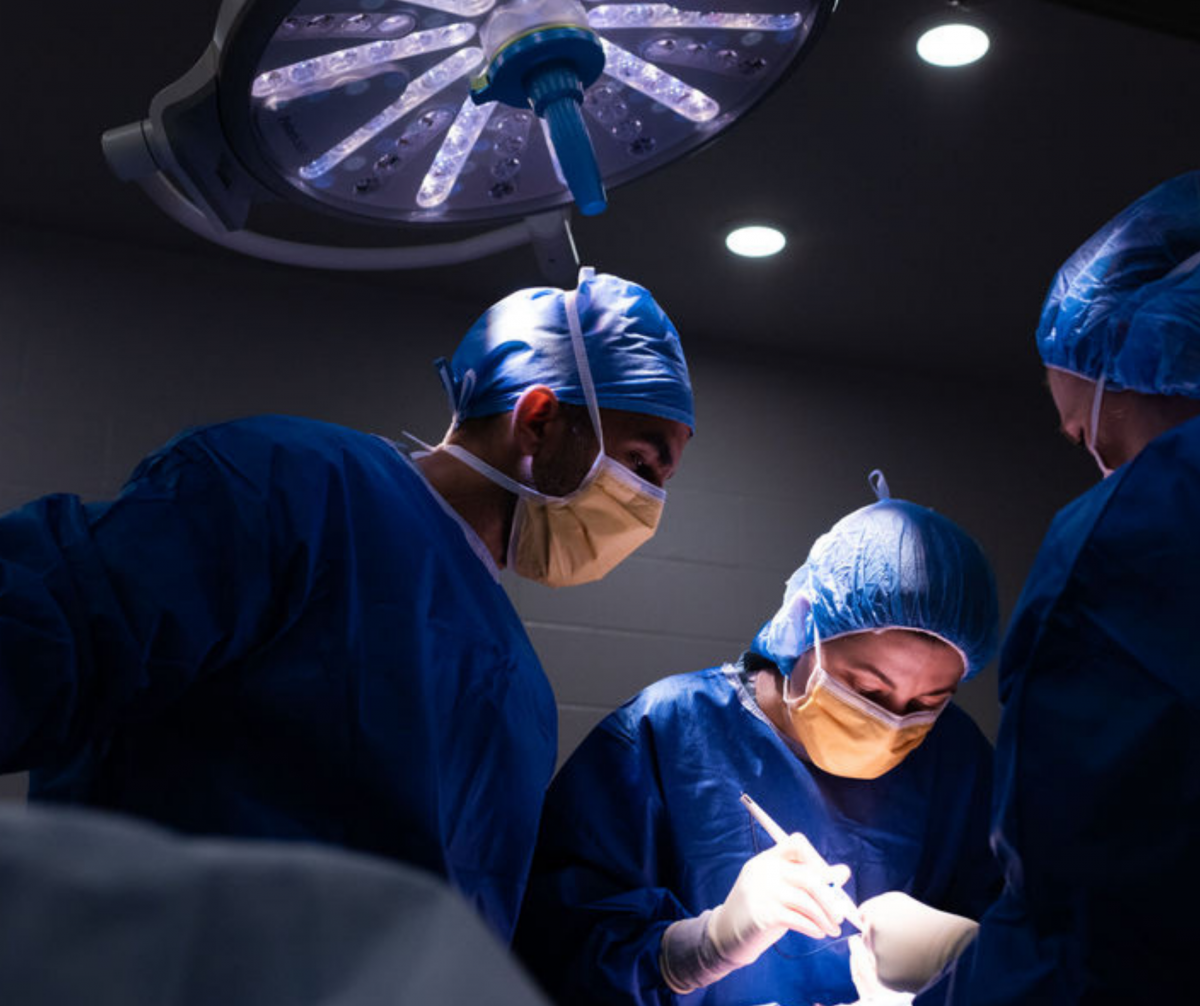 Fenway is wheeled on a gurney into the new surgical complex by a Registered Veterinary Technician (RVT), entering the new MIP suite as small animal surgeon Dr. Ameet Singh (pictured in the OR) briefs his team on the surgical plan and the outcomes he hopes to achieve.
Surgical oncologist Dr. Michelle Oblak reflects on her last surgery in the old facilities as bittersweet and remembers the OR where she grew from an undergraduate student to a veterinarian, to a senior resident, to faculty; but she has immense gratitude for the donors who made the new facilities a reality. She adds that the old facilities, built in the 1950s, had become crowded and dated with the increased surgical caseload OVC has experienced over the past five to 10 years. While she and her colleagues never let an older environment compromise the level of care they were able to provide or hold them back from innovating and pushing the boundaries, she enjoys working in a more modern working environment. "OVC Pet Trust is the lifeline for the work we do here at OVC," Oblak says. "Support from OVC Pet Trust positions us to be a centre of veterinary excellence in the world; I'm proud of that." 
Optimization of Clinical Spaces
The specialty of internal medicine often involves the use of non-surgical techniques to diagnose and treat acute and chronic disorders or illnesses that may involve multiple organ systems. One of the specialized and complex diagnostic techniques the OVC Medicine Service commonly performs is endoscopy, a minimally invasive procedure used to explore and visualize the inside of the body. Endoscopy was historically performed at OVC in a small room within the old anesthesia unit. Upgrades have created the new Stone Endoscopy Unit. This new unit was named in honour of former OVC Dean and surgeon Dr. Elizabeth Stone, and it includes two massive rooms dedicated to endoscopic procedures and equipment.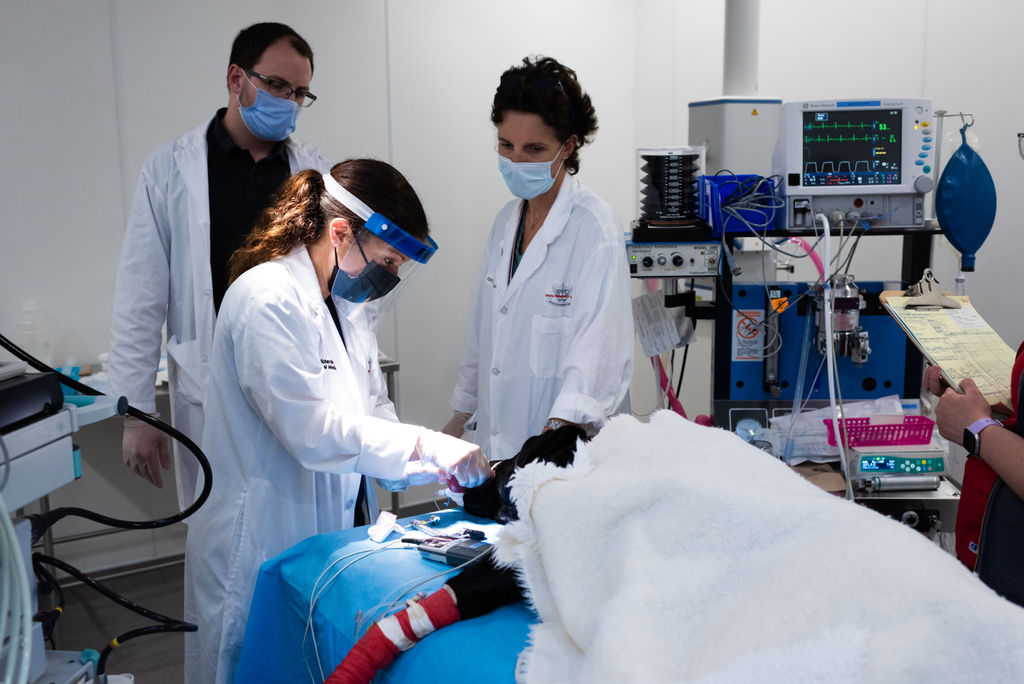 Endoscopy allows internists to identify issues, and some-times that involves consulting with other services on the nature of a specific illness or condition in their patient. Internal medicine team members (pictured) are problem solvers and detectives, conducting detailed investigations to diagnose and help their patients. The complexity of arriving at a treatment plan involves differential diagnoses, a nuanced task aimed at distinguishing one particular disease or condition from others that present similar clinical signs that is an important part of clinical reasoning and decision-making in the health care profession.
Scoping performed in the new facilities help dogs, cats and avian and exotic patients who may suffer from conditions such as gastrointestinal (GI) diseases, pancreas and liv-er diseases, kidney and urinary tract diseases, foreign body ingestion and more.
Hundreds of types of routine and advanced procedures occur in OVC's new facilities. Patients are referred by their family veterinarian to the Surgery and Internal Medicine Services. Surgeries from several other specialty services are performed here by ophthalmology, neurology, cardiology and avian and exotics specialists. 
The space, like a human hospital, is a multi-faceted facility where integrated care is delivered on a daily basis. It is also home to a team of inter-professional veterinary health care workers who provide patient care, including clinicians and board-certified specialists, technicians, nurses and support staff, residents, interns, trainees and students.
It's All About the Human-Animal Bond
OVC Pet Trust Director Kim Robinson is grateful for the generosity and support of the many individuals who helped turn an early vision into a reality, and for the difference the new spaces will make in the lives of thousands of pets and their people. A dog owner and animal advocate, Robinson is proud to advance pet health and well-being through OVC Pet Trust's core mission of helping to improve life for pets and supporting the bond between people and animals.
"The improvements to the OVC Companion Animal Hospital ensure pets can receive life-saving procedures with fewer complications and faster recovery times, allowing people and their pets to be together for longer."
Meet Some of the First Patients Treated in the New OVC Facilities
Fenway
Fenway, a 13-year-old Golden Retriever, experienced an episode of collapse in early May this year. Tests revealed pericardial effusion, the buildup of extra fluid in the space around the heart. Another scan revealed masses on Fenway's spleen, a nodule on the adrenal gland and a mass on the liver. After being referred to the OVC Oncology Service for evaluation and to discuss options for his care, he was referred to the Surgery team for further staging and surgical intervention. Fenway was admitted to the hospital in June and underwent general anesthesia for more diagnostic imaging tests. After diagnosis, Fenway returned to OVC for a laparoscopic-assisted splenectomy (the surgical removal of the spleen) and liver biopsies in the new Minimally Invasive Procedures Suite. The OVC team performed a video-assisted, minimally invasive surgery to evaluate the mass on Fenway's heart along with a pericardectomy, which involved the surgical removal of the sac around the heart. Fenway did well in surgery and recovered smoothly from anesthesia. Soon, he will go back home with his family in Waterloo. Biopsies taken during surgery confirm Fenway's diagnosis: hemangiosarcoma, a type of canine cancer that targets blood vessels. Fenway's owners, Dean Cox and Kimberly Dubblestein, says they are grateful for the hope they have experienced through OVC: "Fenway is battling a devastatingly serious disease, but I know he's receiving the best care and maintaining the greatest quality of life through the expertise of his care team at the OVC." Read more about Fenway's story.
Mira
Mira, a six-year-old Mastiff mixed breed dog, is a neurology patient who was referred to the OVC Emergency Service in late June after experiencing seizures. A series of tests were performed, including an MRI and a cerebrospinal fluid (CSF) analysis, and Mira was diagnosed with a type of brain tumour cancer called a glioma, the second most common brain tumour in dogs. She is visiting OVC for a CT scan for radiation therapy planning. These types of tumours do not respond to chemotherapy; radiation is the best therapeutic option, which her owner, Allison Do Rego, has decided to pursue to treat Mira's cancer. Many patients like Mira are anesthetized for diagnostic imaging and tests, to ensure comfort and to keep them still and relaxed during the procedure. "Mira is my whole world," Allison says. "I know she is in the best hands at OVC."
Crouton
Crouton, a one-year-old domestic medium hair cat, presented to the OVC Internal Medicine and Surgery Service for a spay and a cystoscopy, a procedure to check the health of the urethra and bladder. Crouton was anesthetized for her procedures. She was referred to OVC after her foster owner noticed the cat suffered from urinary incontinence and recurrent urinary tract infections. Crouton's human Stephanie Pisani says she expects Crouton will have follow-up appointments to address ongoing concerns but is hopeful OVC will be able to help. After her procedure, Crouton will go back to her foster home with Stephanie and her bonded cat sister, Pretzel.
Go behind the scenes and watch a video of our new facilities.
Learn more about the work of OVC Pet Trust.